Hydration Therapy in Cancun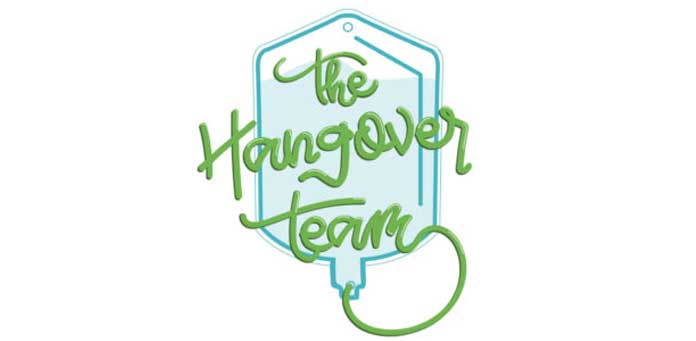 There's a new service now available that offers Hydration Therapy in Cancun and the Riviera Maya.
Hydration Therapy is probably the best method for hangover recovery in Cancun.
The Hangover Team, have their principal locations at Temptation Cancun Resort, Desire Pearl and Desire Riviera Maya and also operate a mobile unit that serves all locations in the area.
They believe that your well-being and vacation should be enjoyed to its fullest and are dedicated to defeating anything that keeps you from having fun! Their focus is the ever dreaded, and unavoidable vacation HANGOVER.  They don't stop there though however, their services help with jet-lag, diarrhea, joint pain, nausea, cold and flu symptoms, and dehydration.
Hangover Recovery in Cancun
Sun exposure mixed with large amounts of alcohol may cause minor and major illnesses and is the main factor in lost time from every vacation, bachelorette or bachelor party, wedding… etc.
Hydration Therapy has been used by professional athletes for years, before and after intense sporting competitions. Celebrities also use this service when required to perform or after a big party when they are not feeling well.
This service is now becoming increasingly popular and available to the public in many cities all across the United States. More and more people are using this option in their daily lives when, "their own show must go on".
Intravenous Hydration is used to treat moderate to severe cases of dehydration and is the quickest and most effective way to recover. Traditionally administered in hospitals and emergency rooms, it's often accompanied by long periods of waiting and extremely high hospital fees.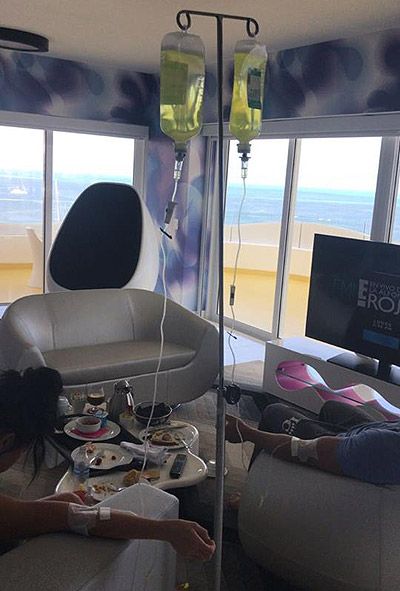 How Does IV Hydration Therapy Work?
Once notified, the Doctor arrives at your hotel within an hour. After filling out a medical questionnaire and checking your vital signs, the doctor administers and supervises your IV. The IV is a drip full of electrolytes, vitamins and pain-relief, providing fast and safe recovery in 45 minutes.
After Hydration Therapy in Cancun, clients are immediately ready to get back to their hard-earned vacation time – having fun while feeling and looking well from the inside out!
A blend of vitamins, electrolytes and minerals devised to replenish & restore your body to optimal levels of hydration.
Designed by Dr. Gilberto Torres, this formula has been used for decades by artists, athletes, musicians and wealthy people all over the world to recuperate and increase their physical performance, improve their mood & overall health.
What Are The Benefits Of Hydration Therapy?
Instant Hangover Relief
Enhances Immune System
Detoxification
Anti-Aging and Re-hydrated Lustrous Skin
Metabolism and Energy Boost
Improved Mobility and Joint Strength
Stress Reduction and Speedy Recovery
Location Of Hydration Therapy in Cancun
Original Resorts in Cancun and the Riviera Maya:
The SPA at the newly renovated Temptation Cancun Resort.
The SPA at Desire Riviera Maya Resort.
Desire Pearl Riviera Maya Resort at concierge desk.
For more detailed information and prices please visit their website at Hangover Team Cancun or fill out the form below and a representative will get back to you.
If you're staying at Temptation there is a representative on site who can answer any questions you may have. He goes by the name "Magic Mike" and can usually be found around the sexy pool area.
Arrange Appointment or Make Enquiry