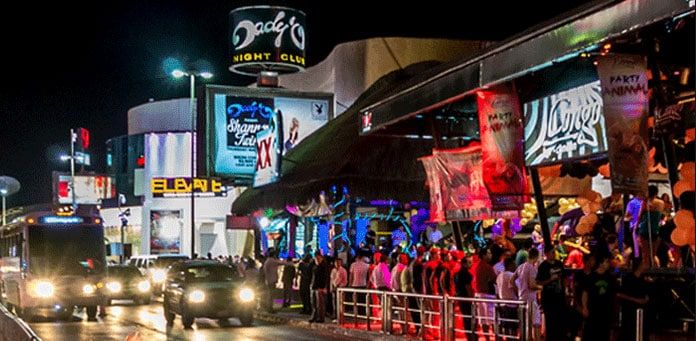 Cancun Nightlife has no rival! With a dozen nightclubs in the Hotel Zone and literally hundreds of bars it's no wonder Cancun is regarded as one of the best destinations for a great night out.
Home to the famous saying "what happens in Cancun stays in Cancun" Cancun nightlife is non stop turbo charged entertainment all the way. If you can't have a good night out in Cancun you can't have a good might out anywhere!
Cancun Nightclubs and Bars
Nightlife in Cancun can be split roughly into two categories.
The 'superclubs' such as Coco Bongo, Dady O, and The City. These venues have capacity for thousands and all offer nightly entertainment. In Cancun, it's not a case of just going to a club sitting back having a drink and maybe a dance.
There's something new happening every few minutes, from fantastic circus type performances, giant video screens, the famous Cancun bikini contests, mime artists, crazy waiters and bubble balloons and ticker tape.
It's not uncommon for the major Cancun nightclubs to carry on going until 6 in the morning. A night out at one of the bigger Cancun nightclubs will not be forgotten …… no matter how much you drink!
For this type of club you should expect to pay around $60 to $80 for open bar.
"Open Bar" in Cancun means that for the one single entrance price all drinks are included. Open bar and most of the clubs finishes at 3am, if you decide to stay later than that then you'll usually have to pay by the drink as you go.
Your experience of Cancun nightlife doesn't have to be at one of the big clubs there are scores of bars in Cancun such as La Vaquita, Congo Bar, Senor Frogs or Carlos N Charlie's that make for a great night out.
The majority of these offer food during the day and some also during the evening. But at night the emphasis most definitely changes from that of a restaurant to a busy bar with entertainment, competitions, and customer participation.
These type of bars usually close around 3am. In addition to the regular pay by the drink deal, open bar deals are also on offer with prices normally ranging from $30 for 3 hours.
Locals like to have fun too, and especially on Friday and Saturday nights you'll find many locals enjoying Cancun nightlife along with tourists in the hotel zone clubs and bars.
As in most tourist hot-spots a small minority will be there purely to hustle or take advantage of drunken tourists, but the vast majority are just like you and I.
They want to wind down from their week at work, have a good night out and maybe even hook up for some after hours fun.
Mexican girls are some of the most beautiful in the World, but are not easy and there's many ways they differ from the girls you may meet at home. I came across this guide about dating Mexican girls, it's pretty much spot on and well worth a read.
Tips To Maximize Your Cancun Nightlife Experience
To enjoy your night out in Cancun to the maximum there are a few tips you should be aware of.
The Cancun nightlife scene is one place where tipping should be up front in order to ensure good service. Many waiters will take care of you all night with a decent up front tip. Annoy the wrong waiter by not tipping and you could have a very long wait for your drinks.
Beware of shot girls who roam the club looking to sell tequila or jello shots. Although fun and great photo opportunities, they can be very persuasive. At $2 per shot plus tip make sure you don't go overboard and order three shots for each of your group of five!
The alcohol served is generally not great quality. Although there does seem to be a general move towards serving better quality over the last few years.
If ordering by the drink, preferably pay at each round. If not, keep count on your drinks and examine your check carefully.
Cancun clubs and bars can be very busy places and moving through them can be slow, don't get lost! Try to memorize where the emergency exits and bathrooms are.
Keep an eye on your drinks at all times and do not accept drinks from strangers. This goes for guys as well as girls!
Don't leave cameras on tables, or your bag hanging from your seat.
Cancun Clubs and Bars Now Closed