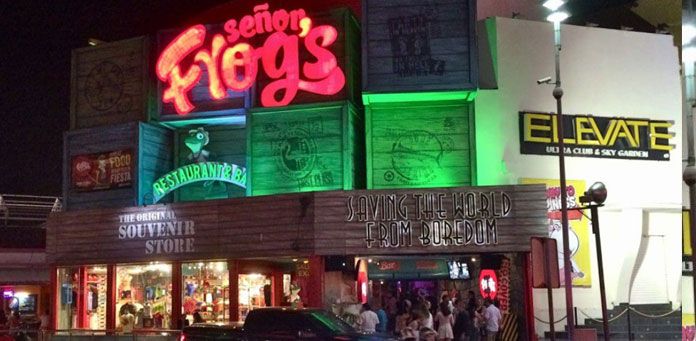 Senor Frogs now has two venues in Cancun. One of which is a nightclub or disco, the other a hostel described as fun inclusive!
Senor Frogs Nightclub Cancun
Restaurant by day and Cancun nightclub by night is a popular spot for those on vacation in Cancun. In addition to their flagship site in Cancun which opened in 1989, there are also venues in Playa Del Carmen and Cozumel.
The Cancun venue is in the heart of the party zone and is located at the premises that Dady Rock used to occupy.
Their restaurant opens at midday and continues through until midnight. Serving international type food such as pizza, pasta, steak, chicken and Mexican dishes including fajitas and enchiladas.
The restaurant has capacity for up to 300 customers and welcomes children during daylight hours. As the evening descends though it becomes quite rowdy especially during Spring and Summer break.
Cover charge is 5$ after 8pm and includes the famous souvenir yard glass. Once purchased you then pay to get filled with whatever takes your fancy, maybe a cold beer or cool cocktail.
There is also an all-inclusive option available. For this you pay one cover charge and drink 'free' for the rest of the night. Some All Inclusive hotels offer free cover with their wristbands so look out for those.
During the evening the venue has capacity for up to 1500 people with daily live music, DJs and contests. The bar closes at 3am. Glow parties and foam parties are just two of the fun events that take place.
Crazy contests include the infamous Cancun Wet T shirt contest plus various other risque games. Beware, ladies! Some games may well encourage partial nudity and on occasion may occur without prior knowledge. An example being having carbon dioxide blow up short skirts.
Very popular with the younger crowd (18-25) Senor Frogs is always very busy during Spring Break.
The original location at Km 9.5 was severely damaged during Hurricane Wilma in October 2005. Upon reopening it was totally re-fitted and even included a small indoor swimming pool. They eventually moved to the location of Dady Rock upon its closure.
The old Senor Frogs premises remained in a rundown state for many years. However in February 2018, after undergoing extensive refurbishment, it re-opened as a hostel.
The Hostel has 6, 8, 10 or 12 bed dormitories and a few private rooms. It even has a Penthouse. The hostel offers a convenient central location to stay for the budget conscious traveler. Senor Frogs Hostel is particularly popular with singles.
What sets it apart from other hostels is that it also provides the fun and alcohol-fueled atmosphere right on the same site.
Dormitories are equipped with air conditioning, free Wi-Fi, breakfast included with private bathroom and lockers. The hostel provides a games area, daily excursions and a lagoon view bar. Daily activities such as cocktail making, casino night and karaoke.
Prices are very reasonable and I'd certainly recommend the Hostel for  backpackers and young people traveling on a budget.