Cancun Airport Transfers with USA Transfers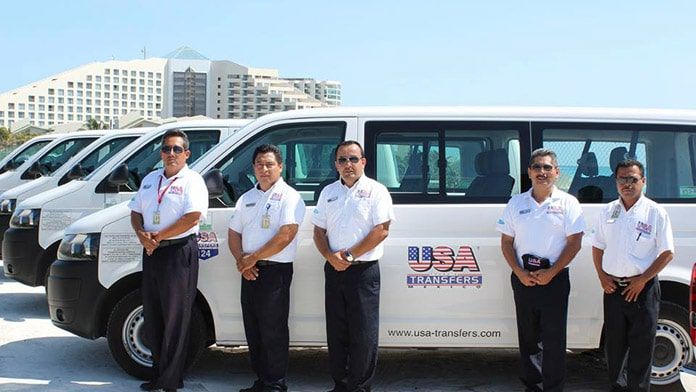 Booking Cancun airport transfers ahead of time ensures that your vacation starts off the quickest way possible. If airport transfer is not included during your trip, or even if it is, booking a private transfer will give your vacation the fastest possible head start.
Don't get besieged by scores of guys grabbing at your bags and forcing you to use their overpriced service. Make things simple and reserve private Cancun airport transfers ahead of time.
Destinations and Prices
Cancun Area
Private Cancun Airport Transfers to Riviera Maya with USA Transfers

Cancun Hotel Zone
Book Here
From $75 return $45 one way
Downtown Cancun
Book Here
From $75 return $45 one way
Isla Mujeres
Book Here
From $85 return $50 one way
Puerto Juarez
Book Here
From $85 return $50 one way
Puerto Morelos
Book Here
From $90 return $55 one way
Bahía Petempich
Book Here
From $85 return $50 one way
Riviera Maya Area
Private Cancun Airport Transfers to Riviera Maya with USA Transfers

Akumal
Book Here
From $159 return $100 one way
Playa del Carmen
Book Here
From $135 return $80 one way
Cozumel
Book Here
From $135 return $80 one way
Playa Mujeres
Book Here
From $85 return $50 one way
Playa Paraiso
Book Here
From $100 return $65 one way
Puerto Aventuras & Xpu Ha
Book Here
From $145 return $85 one way
Tulum
Book Here
From $295 return $175 one way
Further Afield
Private Cancun Airport Transfers Further Afield with USA Transfers

Chichen Itza Hotels
Book Here
From $610 return $355 one way
Chiquila & Isla Holbox
Book Here
From $510 return $280 one way
Merida
Book Here
From $910 return $455 one way
With a private Cancun Airport transfer from USA Transfers you will have your own private van exclusive to your group. I believe USA Transfers to be the best airport transfer service in Cancun, and for that reason we have partnered.
Brant, the owner and Canadian by birth, has been in business for more than 20 years in Cancun and enjoys a fantastic reputation both for customer service and value for money prices.
His team of over 150 staff and 80 vehicles ensures they never sell out and are always avaialable whatever the time of your journey 24/7 365 days a year.
You don't even have to pay a single cent up front. Just pay your driver when he drops you off at your hotel!
With us, there's no waiting for other people to fill up the van and no dropping off at other hotels along the way. You'll go direct to your hotel as soon as you are ready, with the minimum amount of fuss and by the shortest possible route.
You'll be met by a uniformed representative holding a sign who will help load your bags and within minutes you'll be on your way to your hotel.
Leave others on your flight bemused as they fight off the hordes. Watch with a smirk as those on your flight queue to check in while you've already bagged the best room, changed and already enjoying a piña colada!
If you're not sure which area exactly your hotel is please use this hotel locator link. This link can also be used if you wish to set up a transfer that doesn't start or finish at the airport or transfers that involve more than two journeys.
Cancun Airport Transfers FAQ
Where do I find the driver?
As soon as you exit Cancun airport look for a 'greeter' wearing a USA Transfers uniform and holding a sign bearing the company name and logo.
There is always at least one greeter at the airport. Make yourself known to the greeter and the driver will be called to bring the vehicle over from its nearby parking area.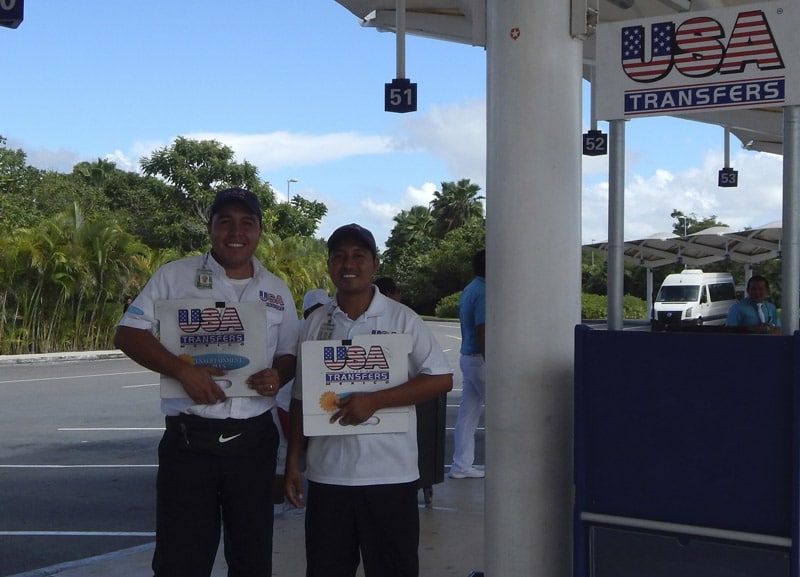 The greeter will then help you with your luggage and take you to your vehicle. This information is all included on the voucher you will be sent upon booking.
How do I pay, to who and when?
For arrivals and round trip Cancun airport transfers pay the driver upon arrival at your hotel in full.
Other services such as departure only, hotel to hotel services or services not involving the airport have to be prepaid.
Amounts shown are in US Dollars. We can't accept coins, torn or marked bills, nor traveler checks. Mexican pesos are acceptable, subject to the prevailing exchange rate on the day.
If you prefer to pay online in advance simply reply to the email the voucher is sent from when you receive it, and you will be sent a payment link that you can use a debit or credit card to pay online.

Special Deal for Canadians!
We accept Canadian Dollars (cash only) at a very generous rate of 1.25 CAD = 1 USD for those clients who fly into Cancun using any of the following airlines: WESTJET, AIR CANADA, AIR TRANSAT or SUNWING only.
To simplify things we round down to the nearest $0 or $5. Example the USD balance of $55 x 1.33 equals $71.50 CAD. We would ask for $70 CAD. Please pay the driver EXACT money if paying in Canadian as they do not carry CAD change. Anything more will be considered a tip.
What if we can not find our driver or greeter?
There are always staff present. If they aren't immediately visible chances are they are helping another customer load their luggage into their vehicle.
The arrival e-voucher sent to you upon booking contains a toll-free number you can dial from the airport. Just find one of the 5 LADATEL phones that are present within 30 yards (ca. 27 m) of where you will be, dial the number, and we will find him for you.
Should I call the 1-800 number to confirm my departure?
No. The 1-800 number is solely for those at the airport. In addition, your hotel will charge around $10 usd just to connect you to a 1-800 number which will then be forwarded to the arrival guys at the airport, not the office or the departure guys.
The e-voucher contains our local numbers, email, etc.
Will the driver have our EP card or sunblock (if ordered)?
Yes. That's the easiest way for us to get extra stuff you ordered to you right at the start of your trip.
What happens if my flight is delayed?
Don't worry!
We monitor your flight and if it is late we will know. No need to contact us. You should, however, contact us if you will arrive via a different flight than the one originally stated.
Yes we do.
However, we cannot 100% guarantee we will have it on the vehicle. Sometimes flights are delayed, traffic may cause delays, changes in schedules etc could mean that the vehicle intended for you with the child seat is held up.
99 % of the time it is no problem, but there may be a rare occasion that is out of our control. The child seats we use are the front facing baby-style, rated for kids of up to 40 lbs We do not have the booster-style seats and only 2 child seats per vehicle.
Can you take us to a supermarket or restaurant in Cancun before going to our hotel?
Yes!
Please email with your request, and we will give you a quote for any restaurant in Cancun. If you'd like to stop at a supermarket it is an extra $30 for each hour or partial hour. Usually 1 hour is plenty, but please book ahead of time. We will take you to the closest supermarket on the way to your hotel. We can also go to, from and between hotels, parks, shopping etc.
If you want a quick 5 minute stop at a convenience store, the driver will be happy to oblige free of charge.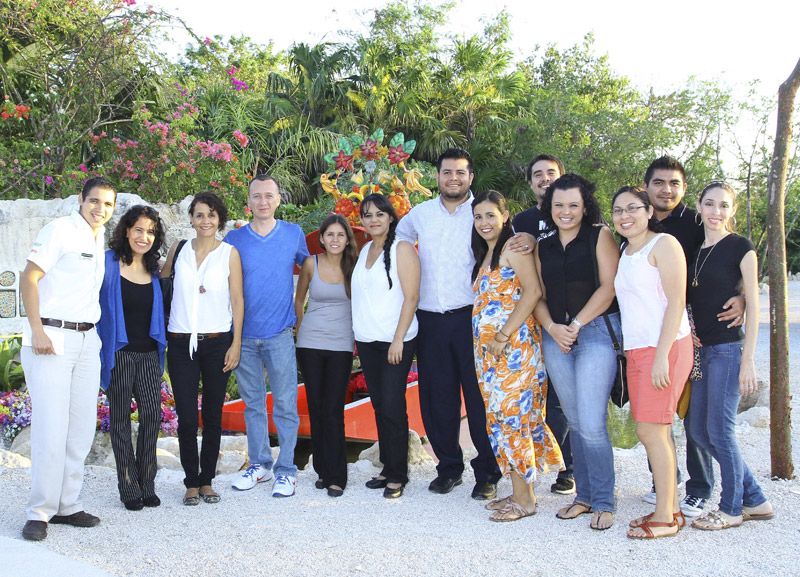 How do I know you have my reservation?
You will receive 3 e-mails from us. The first is just to say we have received your booking.
Once your details have been entered into the system you will receive a voucher for the arrival portion and at the same time a separate email for the return trip.
The two vouchers contain all directions, phone numbers, amounts due etc. If you do not receive a voucher within 24 hours, please email us. Their reservations staff speak full English and are available around the clock.
Can you take people to other places or just Cancun?
We take you almost anywhere! Please see the table above. Email us for a price if you don't see your destination.
A couple of dollars to the guy who greets you.
Drivers, like waiters must earn their tips. If he assists you with your bags, is friendly and helpful and chats along the way, or leaves you alone if that is what you prefer then you should tip him.
While drivers do rely on tips, they also understand that tips are earned and not a right. At the end of the day, you can tip whoever, how ever much you want.