Temptation Caribbean Cruise 2024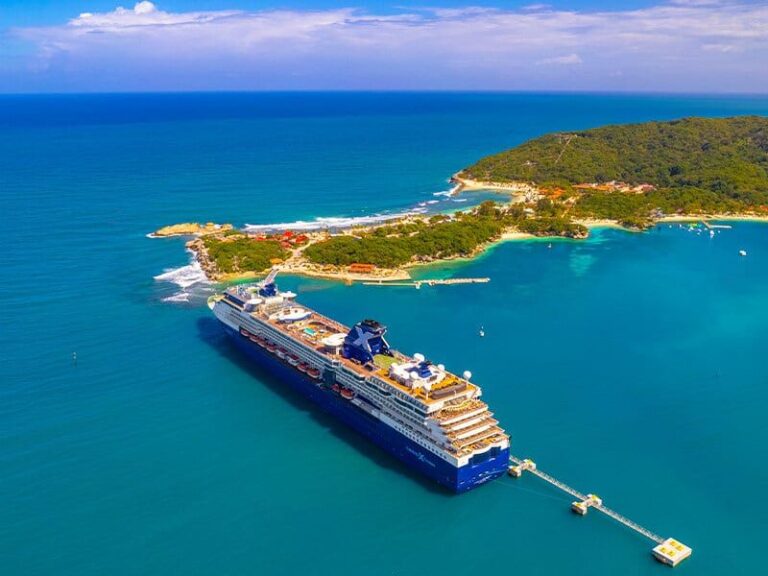 A Floating Playground For Grownups!
Following the success of the previous Temptation Cruises, many people have been requesting information about what's happening for 2024.
The good news is that the 4th Temptation Cruise will go ahead from February 19 – 24, 2024, departing from Miami and making stops at Nassau (The Bahamas) and Cozumel (Mexico).
Imagine all the sexy fun at Temptation, the hot and crazy play-makers, top quality dining, theme nights and sizzling Sexy Pool. Now transfer all of that to the modern state-of-the-art cruise liner Celebrity Summit!
Temptation Caribbean Cruise Video
Ports of Call and Itinerary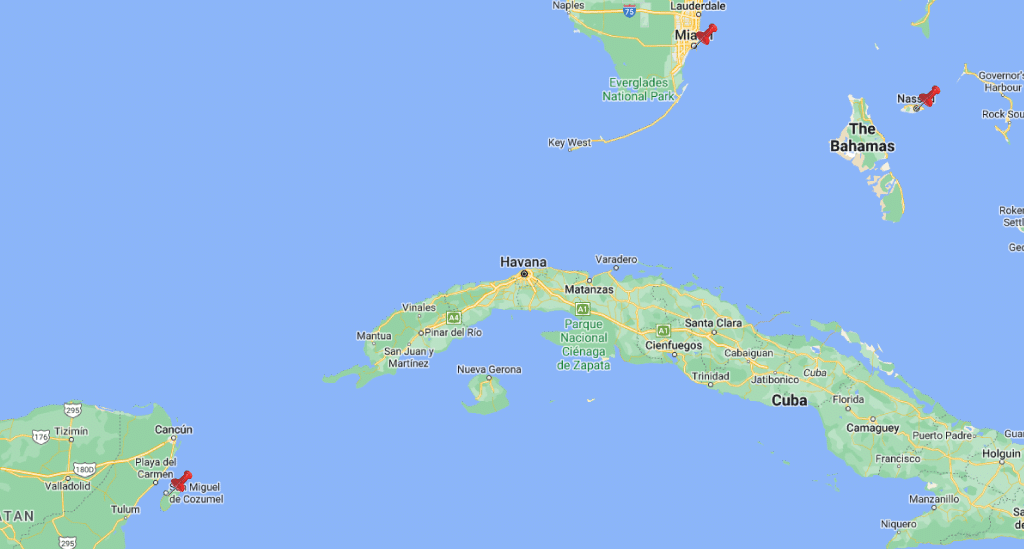 For those who are not familiar with the itinerary, it is spectacular. This voyage sets sail from Miami, Florida, on February 19th. Be prepared for the surprises that Temptation Cruises prepared for this special occasion.
On the 20th, the ship vists Nassau, found in The Bahamas. The next day is spent at sea with arrival at Cozumel, Mexico on the 22nd. Friday the 23rd will be another day at sea making waves, before debarking back to Miami.
Nassau: Capital and largest city of the Bahamas.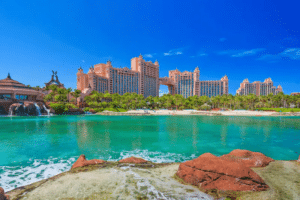 Nassau offers beautiful white sand beaches and crystal clear turquoise waters. Most known for it's diving and snorkeling adventures.
Cozumel: Island in Mexico's Yucatan Peninsula.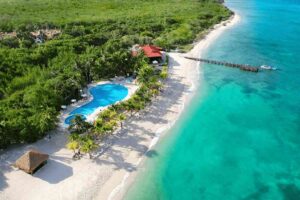 Cozumel, an island with colorful features and a warm atmosphere. Featuring beautiful coral reefs and plenty of historical land marks to visit.
Celebrity Summit Specifications
The Celebrity Summit has a capacity for 2,599 people – which means there will be three times the number of people on board than there would be at a Sold Out Temptation Resort.
Weighing 99,940 tons and with a length of 965 feet and breadth of 106 feet the ship was refurbished in 2019. Over a thousand staff work to ensure your comfort.
Facilities include:
Let me first explain the cruise features that are included, like the R-Rated Red Room for example.
This is a lifestyle-friendly space, for couples only, where all you sexy sailors can experiment with sexuality in an anything-goes environment.
This is a space for those looking to push the boundaries and try something new. A playroom is something you will never find at the resort, but you will find one on this cruise!
Just like at Temptation Resort drinks are included throughout the length of your voyage – a rare event for cruise ships.
These include;
Premium cocktails, spirits, and liqueurs
Domestic, international, and craft beers
Wine and champagne by the glass
Bottled still and sparkling water
Fresh squeezed juices
Non-alcoholic cocktails
Fountain sodas / Coca-Cola freestyle beverages
Premium coffees and teas
Every single drink at the bar with a value up to $10 is included!
Slots, cards, dice and roulette offer a way to spend some Vegas time at the onboard Casino.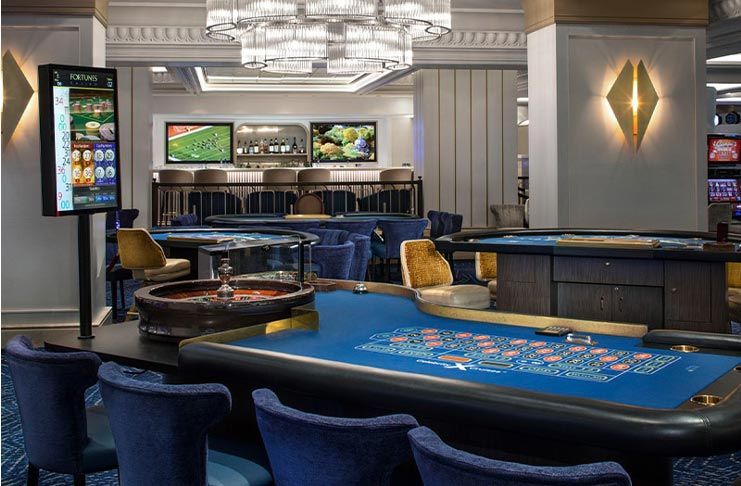 On this voyage, they have included some of the resort's favorite theme nights, along with some new ones never seen before, like the Lace Parade –gals in glamorous lace and men in pajamas and traditional themes such as Glow with the flow – a dress code of neon.
We strongly recommend you check the dress codes for each night. Participation makes it so much more fun!
And they know how much you all like pool parties!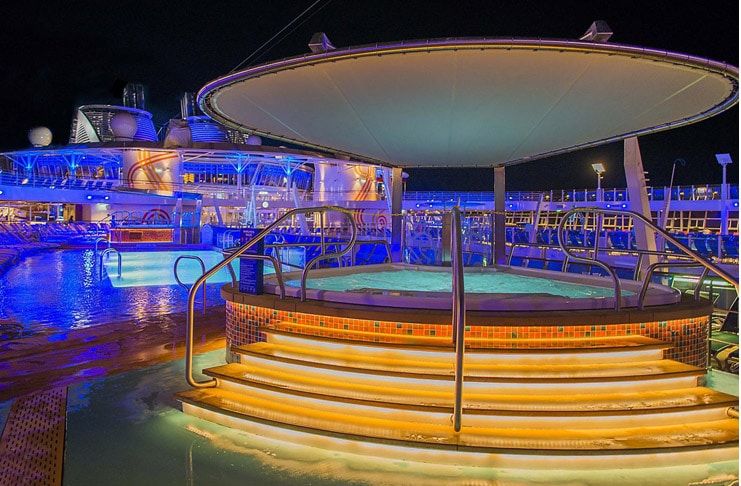 The Temptation Caribbean Cruise has included two themed pool parties for some sexy daytime fun in the sun: Luau Party – don't forget your Hot Hawaiian Lei and Gaudy shirts for the guys. The other pool party is Pink Flamingo where anything Pink is the order of the day.
To add a bit of sugar and spice, the naughty nighttime pool party is sure to be a huge hit; again, this is a cruise-only feature, enjoy it while you can.
At each of the pool parties there will be guest or resident DJs to keep these parties rocking while the cocktails keep rolling.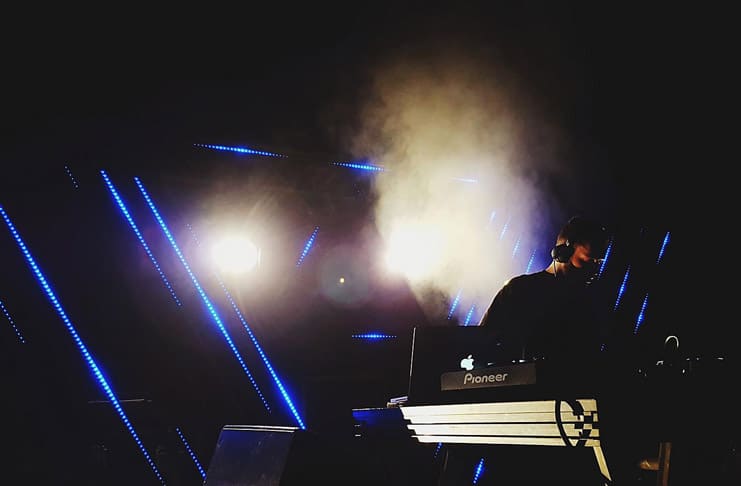 There are a host of renowned DJ's on board to ensure the party never stops!
There will  be spicy workshops led by world-renowned sexologists, which are not usually part of the regular Cancun resort program. These workshops are offered for all those on board who choose to participate, singles or couples.
Who says vacation can't be educational? What will be even more interesting is who will graduate with honors. Just kidding, no experience necessary.
There is also a Fitness Center with state-of-the-art machines and cardio equipment along with various classes.
Featuring a host of beauty fitness and wellness treatments to pamper you.
Temptation Caribbean Cruise Food and Drink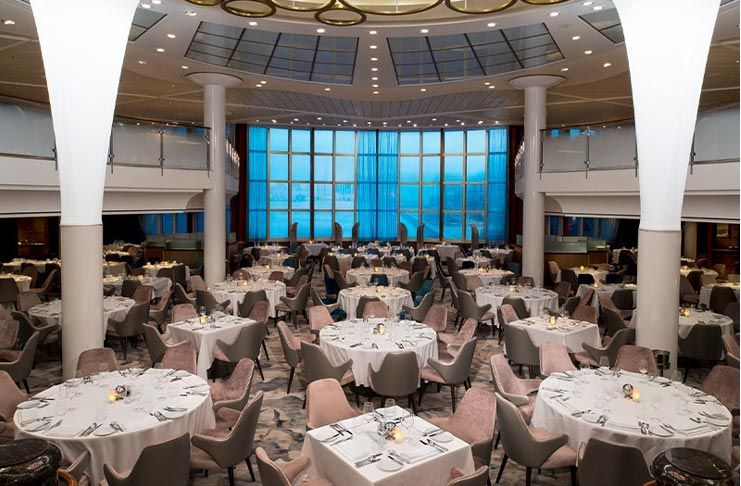 A huge advantage to the Temptation Caribbean Cruise is that it's all-inclusive and don't forget the Premium Beverage Package is also included in the cost of your cabin.
With 10 restaurants, 7 bars and a café you'll never be short of finding somewhere new to eat.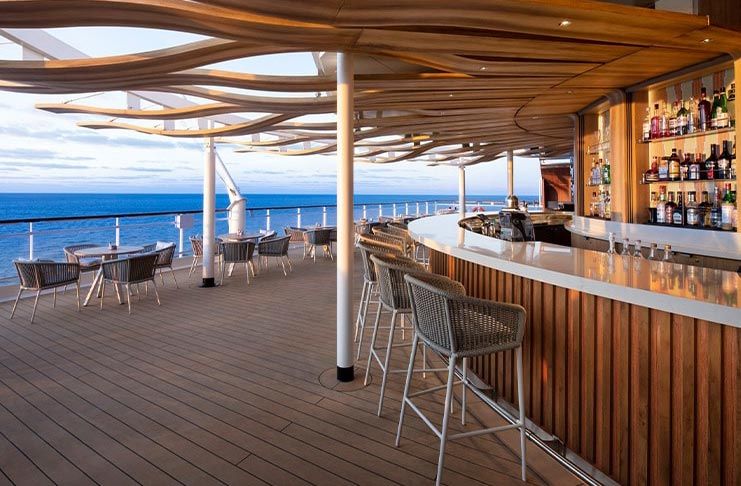 If you are seeking specialty dining, there are four specialty restaurants at minimal extra cost. There are so many options to choose from, obviously you are invited to try them all!
Temptation Caribbean Cruise Accommodations
Some room types have already sold out, below are the room types remaining.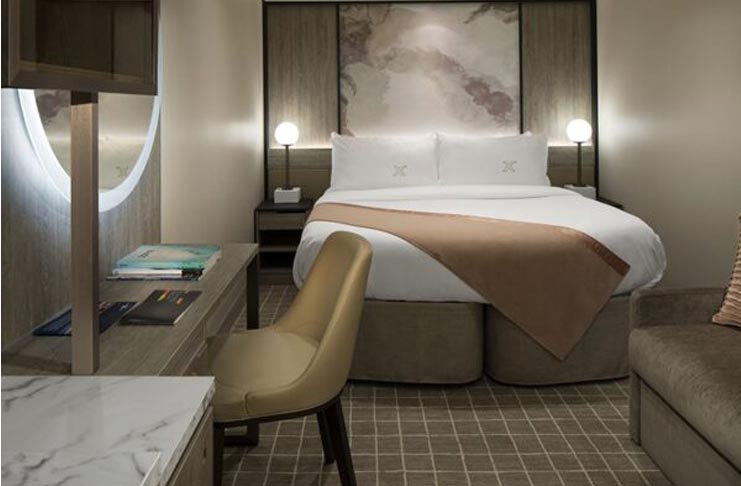 These rooms are 171sq ft (ca. 16 m²) and sleep up to 2 people in two twin beds that convert to a queen. LCD TV,  minifridge, room safe, phone and hairdryer.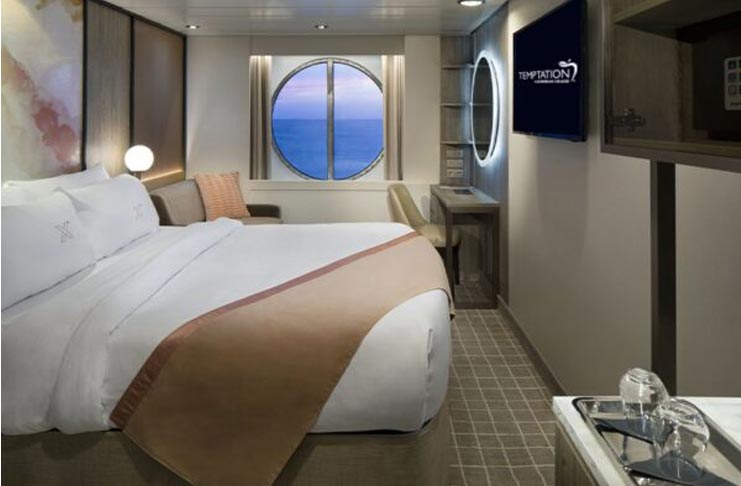 These rooms are the same as an Interior Stateroom but have a porthole window.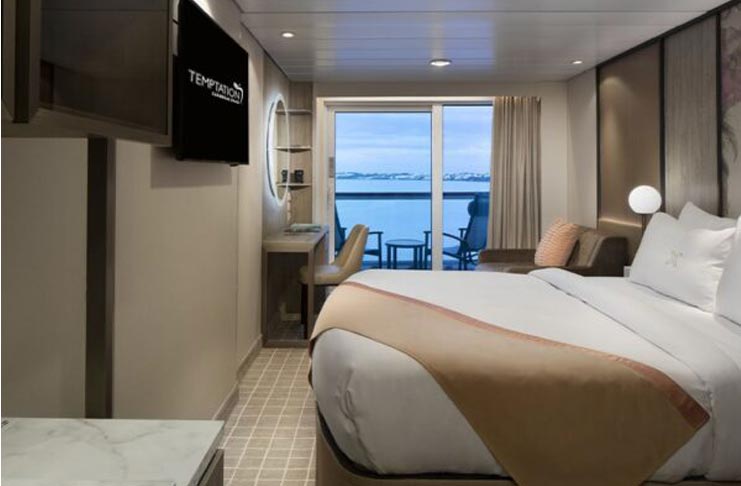 The Veranda Staterooms are 175sq ft (ca. 17 m²) with a balcony size of 38sq ft (3.81 m²)
Family Veranda Staterooms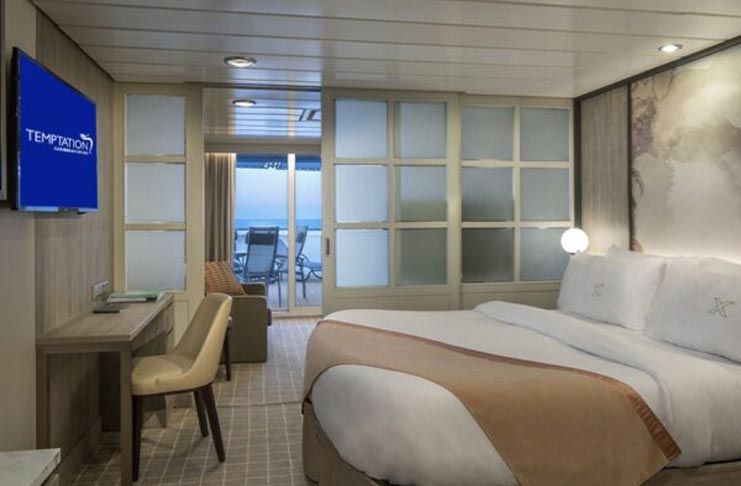 The Family Veranda Stateroom is 296sq ft (ca. 28 m²) with a balcony of 242sq ft and sleeps up to 3. They have a sitting area and bathtub. However, these rooms are twice as expensive as Interior and OceanView Staterooms.
Concierge Class Stateroom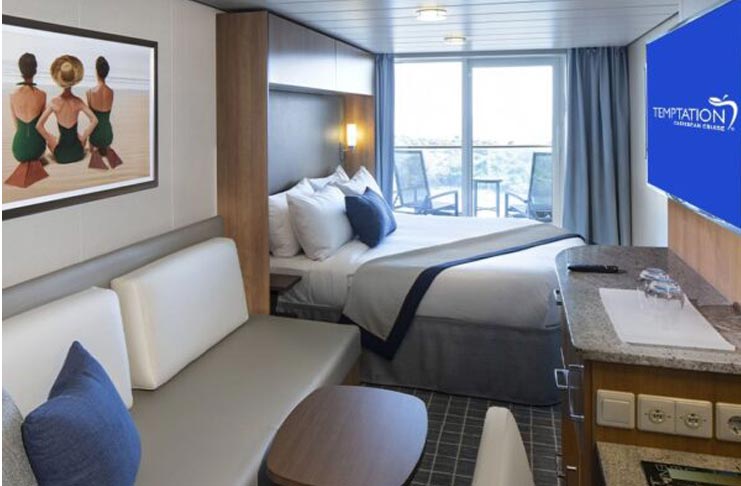 The Concierge Class Stateroom is 209sq ft with a balcony of 42sq ft and sleep up to 3.
The Concierge Class Rooms come with the following additional benefits:
Exclusive embarkation day lunch
Expanded room service breakfast menu
Personalized concierge service
Priority check in
Complimentary shoeshine service
Welcome sparkling wine and fresh fruit
Daily delivery of afternoon savories
Pillow selection upon request
Use of golf umbrella and binoculars
Floor-to-ceiling sliding glass doors
Sitting area with sofa
Veranda with lounge seating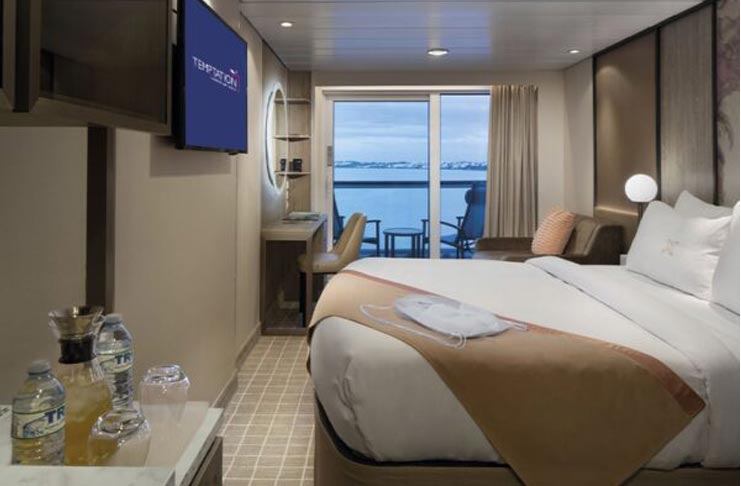 The Aqua Class Stateroom is 191 sq ft with a balcony of 54sq ft.
The Aqua Class Rooms come with  the following additional benefits:
Specialty restaurant Blu, created just for AquaClass guests, serving complimentary, healthy continental breakfast daily, and contemporary dinner nightly
Expanded room service breakfast menu
Special invitation to a VIP tour of the spa on embarkation day
Aromatherapy diffuser
Welcome bottled water (upon arrival)
Daily delivery of flavored tea
PHRO shower panel
Free, unlimited access to Persian Garden spa lounge with heated tile loungers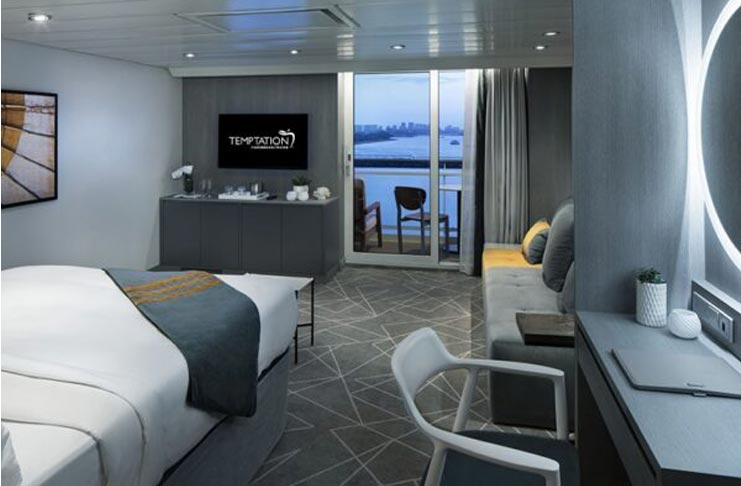 The Sky Suite is 254 sq ft with a balcony of 57 sq ft and sleeps up to 3.
These suites feature sliding glass doors to the veranda and a separate living room, queen sofa bed, mini-fridge LCD TV, bathtub and shower.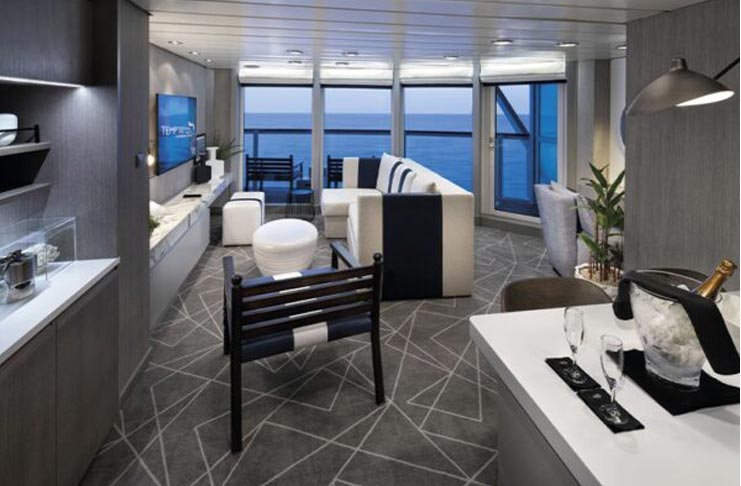 The Royal Suite is 562 sq ft with a veranda of 195 sq ft including whirlpool tub and sleeps up to 4.
These suites feature sliding glass doors to the veranda and a separate living room with dining area, queen size master bedroom, second bedroom, mini-fridge LCD TV, master bathroom with bath and whirlpool tub plus separate shower and double sinks.
Additional benefits include:
Unlimited internet access
Complimentary mini bar of beer, soda, and water (stocked daily)
Two complimentary bottles of alcohol with mixers
Welcome bottle of sparkling water
Complimentary laundry service
This cruise is being sold per cabin, not per person, (based on single or double occupancy), at an incredibly accessible rate when considering it is all-inclusive.
*Please note there is also a surcharge of $350 p/p per stateroom and $400 for suites to cover Port charges, taxes, document fees, gratuities, administration & security fees.
If you haven't already booked your Temptation Caribbean Cruise and are sure to be going, it's time to book now! They are selling fast.
Below is my opinion of the pros and cons of taking the cruise:
Pros:
A playroom. For those who like that – you will never see one at the resort!
An opportunity to visit places you probably wouldn't go otherwise.
It's the fourth Temptation cruise. Lessons have been learned, and you know they will go full out to make it even better than the last one.
Cheaper flights, less time in the air and more accessible from within the US.
A chance to mingle with the movers and shakers. Top TTR management will be there.
Cream of the crop Entertainment staff. The very best Ents team including some familiar faces from our Boobs Cruise.
All-inclusive alcohol – a rarity for regular cruise ships
Miami is easily accessible from all parts of the US, Canada and Europe
Cons:
More expensive than a basic room resort stay but not by much, and good value for a 5-day cruise compared to a regular cruise.
Restricted to the confines of the ship, apart from stopovers.
Smaller rooms than in resort.
The hustle from vendors when you do stopovers, that every cruise port experiences.
Caribbean weather isn't always perfect in February.
Bar staff will be cruise ship staff, security too. Not the same faces we have known for years at the resort.
If you're on the fence, hopefully the above write-up will help you make your mind up one way or another.
If cruise ships aren't your thing, and you prefer to stay land bound check out our Temptation Resort page. If you have any questions please feel free to use our forum and receive input from myself, your fellow voyagers and others in our community.
There you have it, everything you could want and more you will find on board the third Temptation Caribbean Cruise in 2023. We hope to see you there, it is going to be a life-changing experience for those who love to play & party.
And remember, what happens on the boat, stays on the boat.
Party On!