The Cancun Boobs Cruise is the wildest adult party cruise to Isla Mujeres for liberated couples and a few select singles. See for yourself what makes our boobs cruise different from all the other Cancun catamaran cruises!
Operated by ourselves at CancunCare, open-minded adults from all over the world come together for fun and to let go of their inhibitions.
We party all day long on board a 57 or 65 foot catamaran. We cruise the turquoise waters of the Caribbean between Cancun and the island of Isla Mujeres.
The cruise runs every Monday and Friday. The minimum is 25 people and our maximum is 110! Most of the people on the boobs cruise stay at Temptation Resort in Cancun and are members of our Temptation forum message board.
Monday and Friday parties are 10am – 4:30pm.
If you are staying at a different hotel you can still join the cruise. Just take a taxi or bus to Temptation Resort at KM 3.5 in the Hotel Zone and make your way to the adjacent Marina 200 yds past the hotel towards downtown.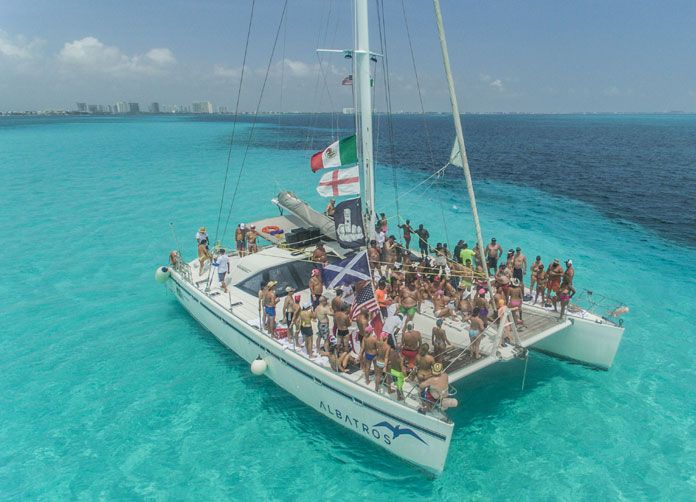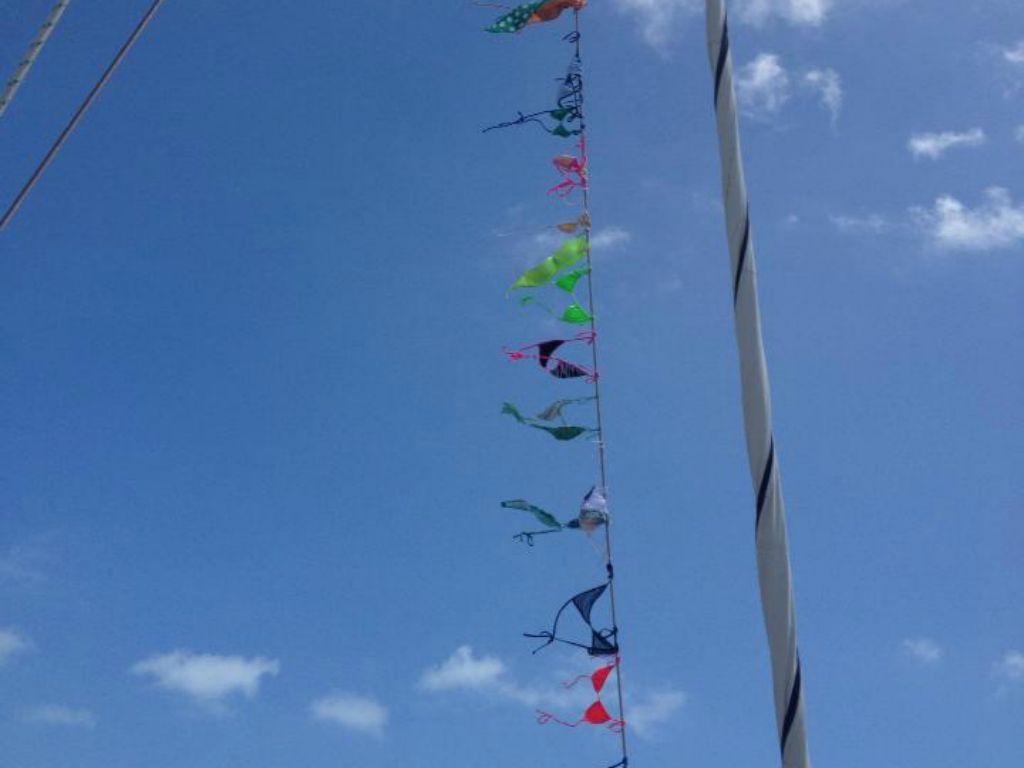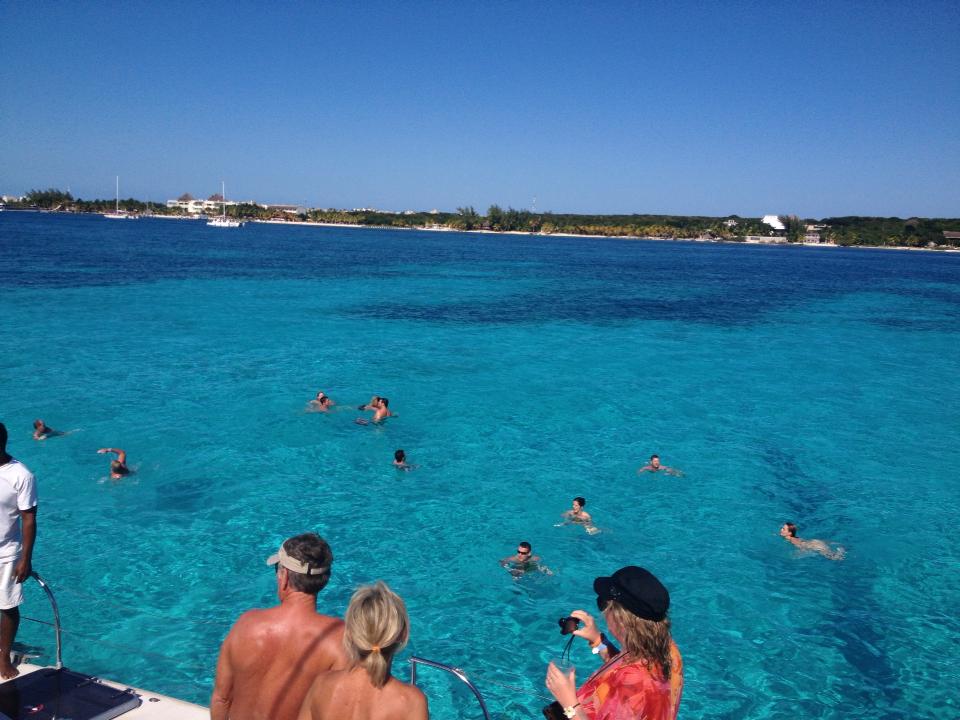 Of course open bar and a buffet lunch are included. We party all day with non stop music from our DJ and a rockin' sound system that blasts all other boats out of the water.
The famous Chinos heads up our famous entertainment staff and alongside Sara 69 and Omar, the crew will ensure that you have a great time and your drink is never empty.
Does a topless cruise that is wild & fun with dancing, skinny dipping, music, drinks all day long, lunch on the beach and adult-themed games and fun sound good to you?
Can I Just Show Up For The Boobs Cruise?
We often sell out but if we have spaces left then we may have some available at Temptation Resort. You can ask the Front Desk, Concierges or Butlers to book for you.
However, the price is more expensive if booked in the resort as we pay a commission to the sales agents.
Also, by offering a better price online we encourage and reward early bookings. It's always best to prebook in advance.
Can I Pay The Balance With A Credit Card?
After the deposit has been paid there is a balance payment of $80pp due on the morning of the cruise. 
Yes you can. Credit cards are accepted but a 5% surcharge applies. I would recommend paying in cash, preferably US Dollars.
Can I Pay in Full Online in Advance?
Unfortunately not.
Due to Paypal charges  and currency conversion fees we'd lose 10% of your payment just in fees. We also use the balances paid on the day to pay our staff's wages.
We meet 10am at the Albatros Marina adjacent to Temptation Resort just a 200yd (0.18 km) walk down the beach. Look for the hammocks just past the volleyball court, and we'll be there.
It usually takes about 30-40 minutes to take balance payments and give out wristbands, so feel free to bring a coffee or beer and relax. We'll be heading to the boat about 10:45am.
We're Not Staying at Temptation Resort. Can I Still Go On The Boobs Cruise?
Yes, of course!
If staying at other resorts you'll need to make your own way by road to the Albatros Marina which is 200 yds past the resort entrance towards downtown. You won't be allowed to access the Marina via the resort.
Tell the staff at the Marina you are there for Steve's boobs cruise, and they will direct you to the check in point. After the cruise is over I'm afraid you won't be allowed back in to the resort unless you are a paying guest there or at one of the Desire resorts, and will need to make your way home via the Marina entrance/exit.
What Time Do We Get Back To Cancun?
Can Anyone Go On The Cruise?
Yes, the cruise is open to anyone. Feel free to invite friends you may meet once at the hotel. You do not need to be staying at Temptation to join us, but this cruise is adults (18+) only.
Our only restriction is that we don't allow all guy groups larger than two per group.
Singles, both ladies and guys are always welcome.
What Should We Expect On The Boobs Cruise? How Freaky Does It Get?
There are no group orgies, but do not be offended by topless ladies, nakedness from both sexes and adult humor.
The Cancun Boobs Cruise is definitely not for prudes.
Topless is not just optional, it is expected! That's why we are called the Boobs Cruise.
That said, no one is going to force anyone to do anything they don't want to do. Refusing to go topless will make you stand out in the crowd though since you'll be in a small minority.
Yes, of course!
There are no restrictions or pressure. Do whatever you want to do, as long as it is respectful of others. We usually have many people of both sexes go naked each trip. However, it is not usually the majority.
We also have our skinny dipping spot where you are more than welcome to swim naked in the ocean (and many do!)
Is This For Lifestyle People Only?
Not at all!
On any given cruise we always have some lifestyle folks but many who are not. Experienced lifestyle couples  are almost always respectful and will not bother you if you are not interested.
What Drinks Are Available?
We stock Dos Equis Beer, Tequila, Vodka & Rum in addition to mixers and purified water. These same drinks are included at the beach club bar during lunch.
You are also welcome to bring your own bottle if you prefer something we don't have.
The beach club also serves premium alcohol and bottled beer for an extra charge.
The area we sail in is between the Cancun mainland and Isla Mujeres. This section of ocean is sheltered and usually not rough.
The catamaran's design makes it stable and the side-to-side rocking motion you experience with a single hulled boat is virtually non-existent.
From time to time some people do get seasick. If you are susceptible to seasickness we suggest you take Dramamine one hour before we leave and drink a ginger ale.
Also, try to take it easy on the alcohol the night before. These things all help mild to moderate seasickness.
Yes smoking is allowed, but only right at the back of the boat on the steps. Please ask for a 'Mexican ashtray' and please don't throw cigarette butts into the ocean!
Full refunds of your deposit will be honored in the following circumstances:
Adverse weather conditions causing the cruise to be cancelled (as determined by the Cancun coastguard)
Failure to reach minimum numbers of paid deposits for the cruise to go ahead.
Cancellation of the cruise for any other reason as determined by cancuncare.com
A refund minus a $5pp admin fee (which includes the original Paypal transaction fee) will be provided in the following circumstances:
Written request to cancel via email to steve@cancuncare.com a minimum of 48 hours before scheduled cruise departure.
Bookings made after the date is already marked as sold out.
Bookings made in contravention of our single guy policy.
No shows and cancellations with less than 24 hours notice forfeit their deposit.
Cancun Boobs Cruise T Shirt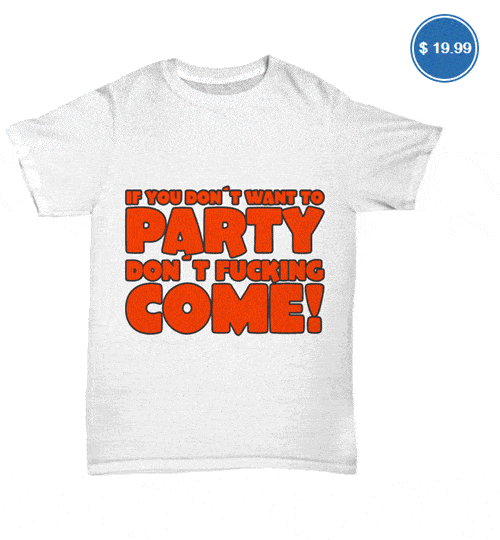 Cancun Boobs Cruise Bikini
Our Boobs Cruise bikinis are custom made by Malibu Strings.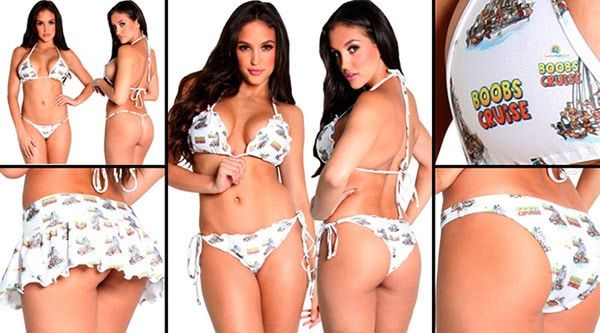 The video below shows our first version, we have improved on that since then and the current bikinis have the design printed directly on the fabric as above.
But, it would be a shame to waste the video 🙂