Temptation Cancun Premier Referrals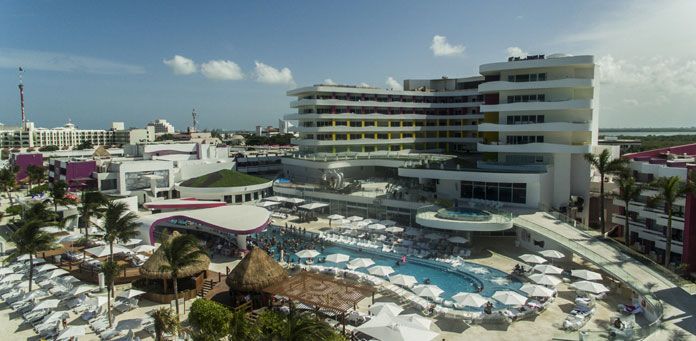 The newly remodeled Temptation Cancun Resort has been open for two years now and is receiving rave reviews. The World's sexiest adult playground is ready for you to enjoy!
Cancuncare enjoys a special relationship with the hotel and due to this, we are able to offer a limited number of Temptation Cancun Referral opportunities.
Booking as a Premier Temptation Cancun Referral will provide you with many extra benefits over and above those available to regular guests.
Referrals: What Are They?
When I visited for opening week I was so blown away by the amazing transformation I immediately bought in to their Premier program. In fact. I was the very first person to buy in after the re-opening!
As part of my membership benefits I am able to offer VIP Premier referrals. When you visit the hotel as a Premier referral you will have access to many VIP benefits that are not available to regular guests.
The VIP Member Referral gold wristband allows you to enjoy almost all the VIP benefits of a fully fledged member without you actually being one.
Benefits: What Do Temptation Referral Benefits Include?
Your extra benefits as a gold band Premier member, over those of a regular guest include:
25% off the Hotel's Website Published Rack Rate
Check in/out at Members Lounge
Welcome Drink and Courtesy Towel
Gold Wristband
Premier Concierge Service
Premier logo towels, bathrobes and slippers
No Charge Room Service (normally $10 per order)
Access to Premier Members Exclusive Beach Bar and Pool Areas
Upgraded Alcohol Selection
Exclusive Menu at Specialty Restaurants
Free Access to the Roof Top Sky Bar (normally $20 per person)
20% Discount in the logo shop for clothing and accessories
Access to Temptation Yacht (4hr trip, max 10 people, Premium drinks and snacks included, extra cost of $400 per booking).
The only catch is you must attend the member sales presentation during your stay.
This will include a tour of the hotel including different room types and a chat with a sales representative who will explain the various member packages, in case you want to buy one. Of course, they will try their best to sell you one.
There is no obligation to buy anything, just to attend the meeting. When you attend the meeting I receive a credit which I use towards our own stays at the hotel.
If you decide to buy I also receive further credit in the way of free nights for myself to use.
What Is the Process to Find out the Price and Book?
Simply fill out the form at the bottom of the page and click send.
The form will be sent directly to my contact at the hotel who will email you back a personal quote. The price will vary depending on number of nights, room type and time of year so each quote is individually personalized just for you.
If you like the quote and want to proceed with a booking simply reply to the email stating so. My Premier contacts will take over from there.
Premier will arrange and take payment of one night deposit and provide you with a reservation confirmation. Then you'll need to pay your balance a minimum of 30 days before your travel date. That's it!
Room Categories: Which Ones Can Be Booked?
We are able to book any room type for you, however, tower rooms do not benefit from 25% off rack rate but you will still receive the VIP Premier Referral benefits.
In order of lowest to the highest price, room categories are as follows:
Trendy Garden
Trendy Ocean
Plush Jacuzzi
Seduction Beachfront Suite
Bash Tower
Lush Tower
Oceanfront Master Suite
Oceanfront Penthouse
Click here for room descriptions, amenities and photos (opens in new window).
I Heard There Were Recent Changes
That is correct. As of July 5th 2019, VIP Premier Referrals benefits changed and the range of benefits were slightly reduced. The list above is the current range of benefits now available.
The main change is that some Premium liquors are now only available to members. Alcohol brands are shown below: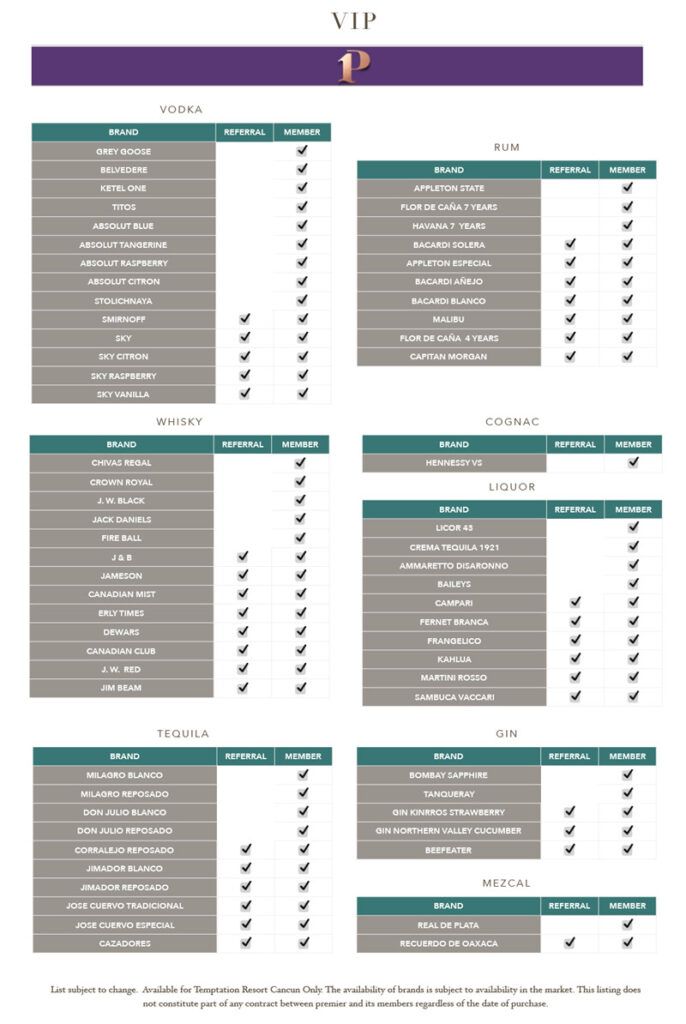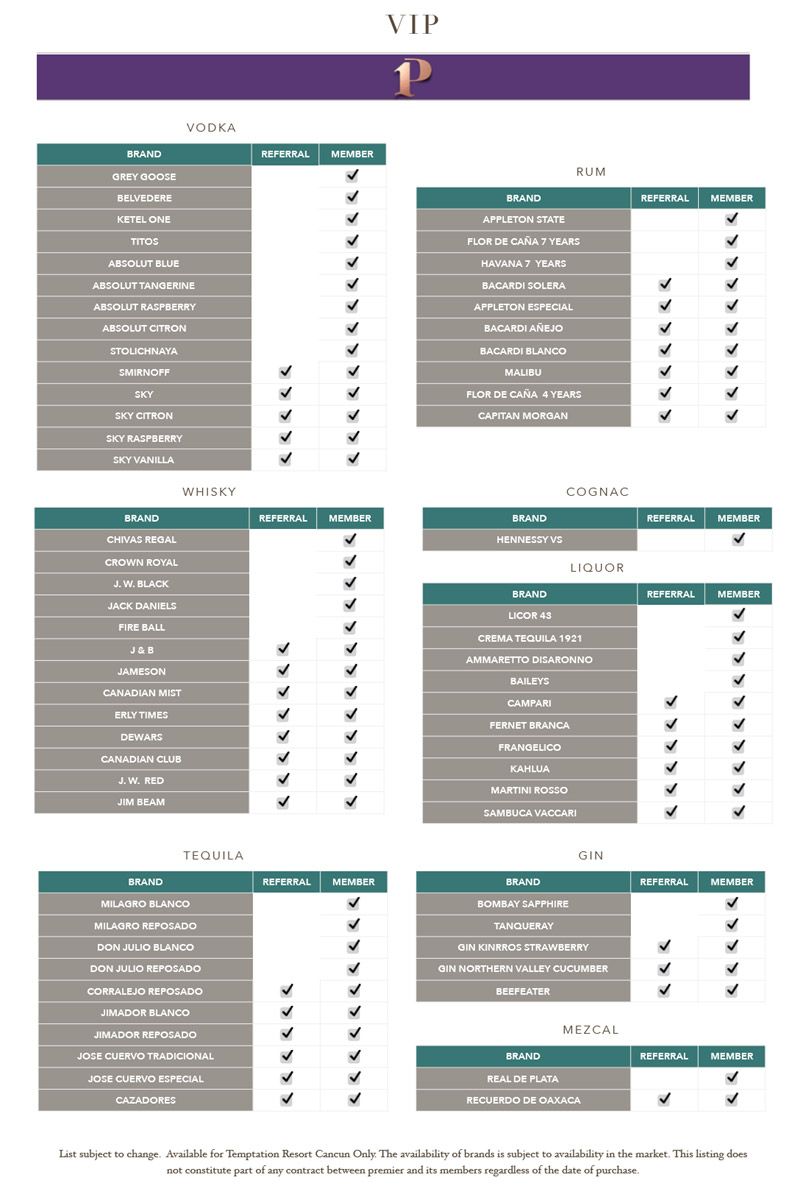 We Already Booked Elsewhere. Can We Still Be Upgraded?
Unfortunately, if you've already booked with a third party you will no longer be able to upgrade. All referral upgrades have to be booked directly with the Premier Office.
Premier Referral Quote Request