Cancun Boobs Cruise Booking

Our price is $135pp, the deposit is $55 with a balance to be paid on the day of $80pp.
Places may be available on the day, however, walk ups and bookings made other than online are priced at $150pp. Book online and save!
Important: Please do not book for dates that are not listed below or dates marked as Sold Out!
Single guy policy. Welcome, but no more than 2 per group please.
Time: Check in: 10 am, return: 4:30 pm.
Cruises Open for Bookings
Friday 6th October
Monday 9th October
Friday 13th October
Monday 16th October
Friday 20th October
Monday 23rd October
Friday 27th October
Monday 30th October
Friday 3rd November
Monday 6th November
Friday 10th November
Monday 13th November
Friday 17th November
Monday 20th November
Friday 24th November
Monday 27th November
Friday 1st December
Monday 4th December
Friday 8th December
Monday 11th December
Friday 15th December
Monday 18th December
Friday 22nd December
Monday 25th December (NOT RUNNING)
Friday 29th December
Please remember this is a deposit payment, there is also a balance of $80 per person (see below).
Your Cancuncare adults-only Boobs Cruise includes:

Reef Tax
Snorkeling Trip - equipment provided
Drinks all day long on the boat and at the beach club
Buffet Lunch at beautiful beach on Isla Mujeres
Entertainment, Games and Prizes

Does not include:

Tips for the boat crew (optional)
Souvenirs such as T-shirts
Kids and boring people.
The cruise price is $135 your deposit is $55 so your balance to be paid on the day is $80 per person.
It is best to pay the balance in USD cash, Pesos are accepted but are subject to the exchange rate at the time as determined by the boat operator. Credit cards (VISA and MC only) are also accepted but will be subject to an extra charge of 5%.
Places may be available on the day, however, walk-ups and bookings made other than online are priced at $150pp. Book online and save!
We meet at 10am Albatros Marina Km 3.5 Blvd Kukulcan in Cancun's Hotel Zone.
Albatros Marina is adjacent to Temptation Cancun Resort.  If staying at Temptation go to the beach, turn left and walk 200 yds to the Marina.
We will be next to the hammocks, beside the volleyball court.
If staying at other hotels you'll need to make your own way to the Albatros Marina which has a clearly marked entrance from the street 200 yds past the Temptation Cancun Resort entrance towards downtown. Tell the staff at the Marina you are there for Steve's boobs cruise, and they will direct you to the check in point.
We return about 4:30pm.
Taxis and Buses Temptation is a 20-minute bus ride from Golden Parnassus, or 30 minutes from Oasis Sens – catch any bus heading Downtown and get off at the stop by Temptation. A bus costs less than $1 each way, or you could take a taxi for around $15 from/to Golden Parnassus or $20 from/to Oasis Sens.
Obviously, if taking taxis it's best to group up and share the fare between you.
Private Transfer We can provide return private return transport for locations outside the Cancun Hotel Zone such as Desire, Playa del Carmen etc at extra cost.
If you want a quote for transfers from/to hotels located outside of Cancun please contact me via email to steve@cancuncare.com
Full refunds of your deposit will be provided in the following circumstances:
Adverse weather conditions causing the cruise to be cancelled (as determined by the Cancun coastguard)
Failure to reach minimum numbers of paid deposits for the cruise to go ahead.
Cancellation of the cruise for any other reason as determined by cancuncare.com
A refund minus a $5pp admin fee (which includes the original Paypal transaction fee) will be provided in the following circumstances:
Written request to cancel via email to steve@cancuncare.com a minimum of 48 hours before scheduled cruise departure.
Bookings made after the date is already marked as sold out.
Bookings made in contravention of our single guy policy.
No shows and cancellations with less than 48 hours notice forfeit their deposit.
The Boobs Cruise T-Shirt is printed on demand, made in and shipped from the United States.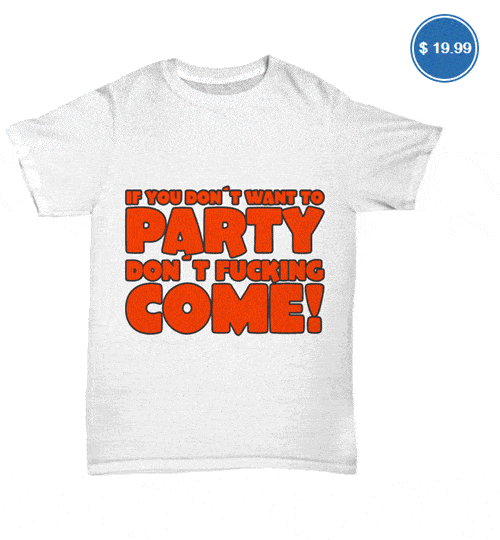 Cancun Boobs Cruise Bikini
Our Boobs Cruise bikini is custom-made by our sponsors the famous Malibu Strings of California.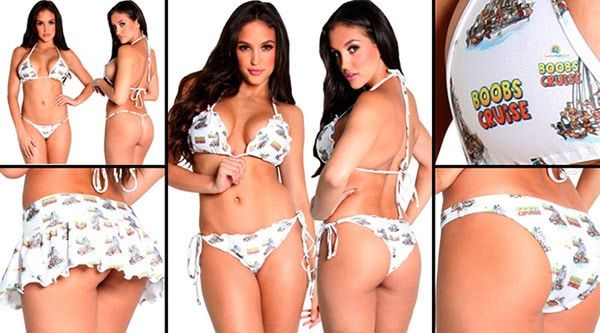 The fabric is printed with our logo as above and unlike the version showed below which was our first try.  But let's not waste the video because of that!