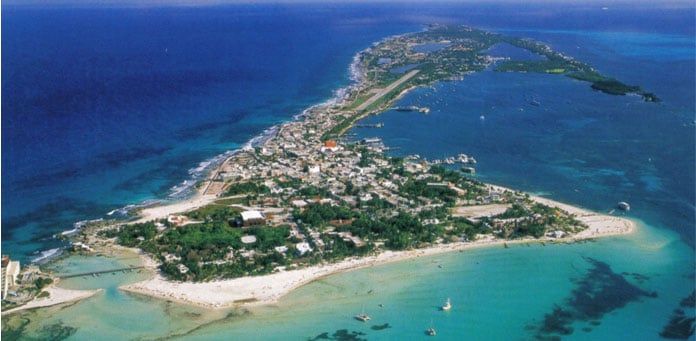 Isla Mujeres (The Island of Women) is a picturesque island only 4.5 miles long and 0.4 miles wide and basks in the warm Caribbean Sea just eight miles from Cancun.
Isla Mujeres is the perfect place for those who like to snorkel, eat fresh seafood or shop for quality jewelry often at cheaper prices than you will find on the mainland.
Isla has beaches on all sides, the beaches on the west coast are renowned for their rugged natural beauty while the large expanses of powder white sand typify the northern beach (Playa Norte). There is plenty of accommodation and hotels on Isla Mujeres, ranging from high end all-inclusive to simple Airbnbs.
The Garrafon National Park is perfect for snorkeling and you can also swim with dolphins at Isla Mujeres.
Getting there by yourself is easy to do, but if you prefer a prearranged tour then the Isla Mujeres catamaran cruise is one you certainly should consider.
The downtown area is small only 6 blocks or so, and there is lot of competition so be prepared to haggle for the best prices for souvenirs.
Many people rent a golf cart, this is one of the safest ways to see the island and Isla Mujeres is small enough such that you can do the circuit in an hour if you don't stop too often.
As for prices, the going rate is 500 pesos to rent a cart from 8am to 5pm; 600 pesos for 24 hours or 200 pesos per hour.
To rent a golf cart you will need a valid drivers license, don't be late back (even 10 minutes) they'll charge you and hold your license hostage until you pay.
Once you're out of the downtown area you will pass a small naval base where you may see some small gun ships. You will pass by a turtle farm and a place where you can have your photo taken with a large 8 foot nurse shark.
Later you'll pass by Garrafon, Isla Mujeres own National Park – Garrafon is an aquatic and recreational natural park located next to Punta Sur.
At Garrafon you can snorkel over part of the magnificent Great Maya Reef while enjoying the particularly calm tide in this area.
Gliding across the clear Caribbean waters on a kayak is another way to enjoy the spectacular natural scenery and the adrenaline really begins to pump when you slide at full speed over the crystalline waters of the ocean on the exciting zip-line.
At Punta Sur (South Point) there is a picturesque lighthouse and iguanas are easily spotted sunning themselves on the rocks.
Continue on your way round the island and see some magnificent houses on your way back, one in particular is a perfect replica of a conch shell.
Gaze out over the Caribbean towards Cuba drop off your cart and if you've got time head to Playa Norte (North Beach) to enjoy one of Mexico's best white sandy beaches.
There are many fine restaurants on Isla Mujeres and you will find it a lot more laid back than in Cancun but it is getting busier, so enjoy it while you can.
Make sure that you take note of when the last ferry leaves for Cancun otherwise you may have to just spend the night there and that would be a real shame, wouldn't it!