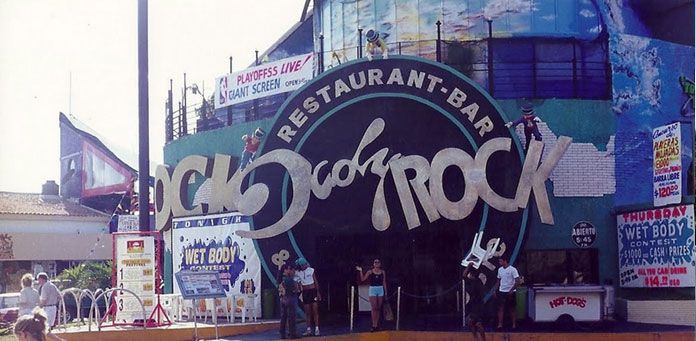 Unfortunately Dady Rock Cancun closed a few years ago and is now the location of Senor Frogs
Get to know the craziest bar in Cancun, the ideal place for those of you who want to have tons of fun in a casual environment where anything can happen.
I even met my wife there (honestly!)
Dady Rock Cancun is literally an entertainment factory with five different bars, two floors, a VIP terrace area, the DJ studio and a stage, where MC's, live bands and an excellent animation team will have you laughing, dancing and living the best party of your vacation.
The night could begin with a fantastic dinner and live shows at Dady Rock News Restaurant serving a selection of Mexican and regular dishes at relatively inexpensive prices. MC's, DJ's, contests, interactive shows, live bands and much more are a nightly feature at Dady Rock. See the show or be the show!
If you don't want to eat here then arrive around 10:00pm as the nights entertainment begins. Dady Rock hosts fun and highly entertaining theme parties. The Jungle Party allows you to step into a world of exotic wildlife with decor, costumes, and activities.
Immerse yourselves in the timeless wonders of the "dark continent" The Beach Party is fun and sexy! Beach attire is "very" welcomed. They take the saying "fun in the sun" off the beach and inside Dady Rock.
Don't miss the hottest nightlife in Cancun, like the Bikini Contest on a Thursday and their famous Wet Body Contest. Enjoy the best music videos on giant TV screen and 25 monitors located throughout the bar.