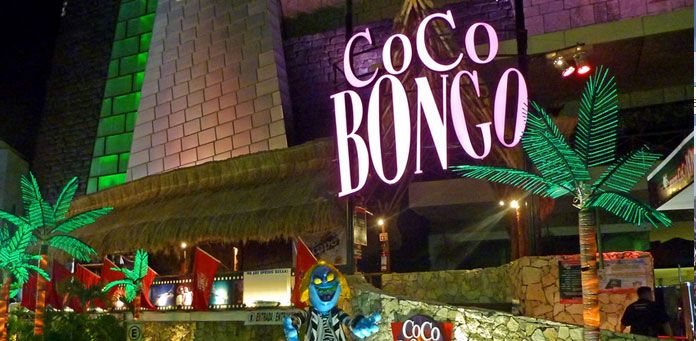 Coco Bongo, Mexico Meets Las Vegas!
Upon entering a series of escalators takes you up to the top of the club where you then make your way into the stadium style nightclub. The nightclub consists of a main stage high up to the front with a central bar which serves the dual purpose of drink service.
There are also convenient podiums for dancing on, two of which are high up either side of the stage for those exhibitionists.
If you're wearing a short skirt ladies, watch out! Sometimes jets of carbon dioxide are shot up in the air by the bartenders. You may end up showing a little more than you intended.
The club also has three or so tiers of seating, with the lower areas having bleacher style benches and private tables occupying the upper levels.
What seems like hundreds of waiters attend to the clubbers. A well-placed tip at the beginning of the night ensures you'll get good service all night long and won't have to queue at the bar for your drinks.
The show begins around 11.00pm and is often opened by a Robbie Williams impersonator. Other look-alike mime artists include Michael Jackson, Madonna and Lou Bega (Mambo No 5).
Set against a constant stream of bubbles, balloons, ticker tape, falling from the ceiling it's a spectacular sight. Scantily clad dancers, trumpeters and drummers complement the acts.
There are also Cirque De Soleil style shows. These consist of artists who hang from sheets above the crowded bar and perform synchronized gymnastic and acrobatic routines.
Beetlejuice and The Mask provide additional entertainment as they literally fly around the club. Not only that, they also dispense drinks of tequila mix direct from the bottle to willing mouths.
Around 2am the show is pretty much over. However, the night continues with a mix of 80′, 90's and Latin pop to suit all tastes.
All in all Coco Bongo is a not a place you'd probably want to visit every night of your vacation in Cancun. Though if you don't visit at east once in your life you will have missed out on an unforgettable experience.
Coco Bongo is arguably the most popular Cancun nightclub for tourists to visit and has been established for many years.
Their Cancun location is the original one, but Coco Bongo Playa del Carmen opened about 5 years ago. There is also another venue in Punta Cana, Dominican Republic. Their Cancun venue is in the heart of the Cancun party center.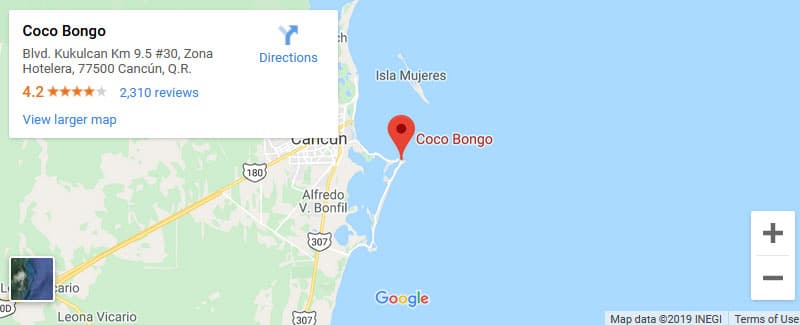 The club has a capacity of around 3,000 so it's a pretty big sized venue. It is situated in the heart of the Cancun Party Center and offers a mix of music and live shows.
Their unique concept blends Cirque de Soleil, artist impersonators with amazing light and sound effects. Of course, crazy waiters and booze are par for the course!
Coco Bongo is for all ages, don't expect the place to be just twenty-somethings, and there's even a kids show on Wednesday afternoons where the open bar serves only soda and juice!
It's always a good idea to arrive early as the club fills quickly and good vantage points become scarce after 11pm. Doors open around 10:30pm nightly.
Coco Bongo tickets can be bought in several different places. Many all-inclusive hotels in Cancun will have an activities team led excursion once a week. If your schedule doesn't fit with theirs though you can go any night of the week. You will likely be able to buy your tickets at your hotel.
You may also buy tickets from vendors on the street and the little kiosks that sell tours which are dotted around Cancun.
If you are thinking of taking the cuncrawl party hopper tour then Coco Bongo is one of the featured clubs, but only on Monday nights. The cuncrawl is a great way to see several bars and clubs on the same night for one all in price.
Of course, you can also buy tickets online from the official Coco Bongo website here