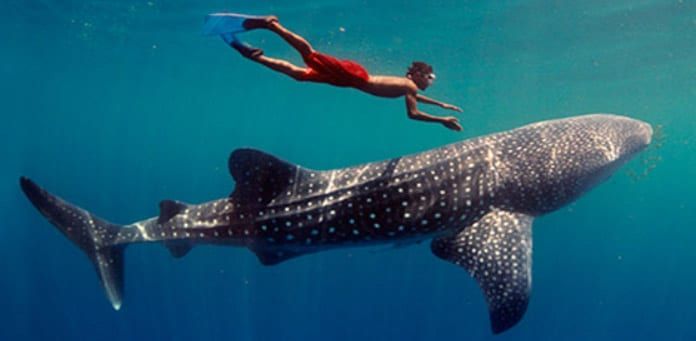 Cancun Whale Shark tours are unlikely to be beaten for the ultimate thrill-seeker. Whale Sharks are the largest fish in the Ocean and between May and September Whale Sharks are found in abundance at the Isla Che Reef, less than an hour boat ride from Cancun.
Snorkeling beside these HUGE creatures is a once-in-a-lifetime experience. Whale Sharks are not whales, they are plankton-eating sharks (they don't even have teeth!). The boat takes you out into the ocean where the Whale Sharks are migrating through this area from mid-May through mid-September. Boats hold 10 people so each pair of snorkelers gets 2-3 turns with the Whale Sharks.
Don't miss this opportunity to swim with the world's largest fish in the ocean.
They swim very slowly, no faster than 3mph as they munch their way through 1600 gallons of water an hour sieving out their food, so it is easy for snorkelers to keep up with these giant fish.
Our Cancun Whale Shark tour uses a high-powered boat, is limited to just ten people per trip and is only available from mid-May to mid-September.
All participants must be able to swim and be 5 yrs or over to snorkel. Each pair of snorkelers gets to go out with the Whale Sharks for 5-10 minutes at a time until everyone gets a turn. Each person will have 3-4 turns. Not suitable for pregnant women more than 3 months.
It can not be 100% guaranteed that you will encounter whale sharks on your tour, however, if you don't you will be refunded 50% of the cost of your trip.
The Whale Sharks move where the plankton moves and are in the open ocean not in a pen. However, GPS coordinates are maintained and along with local knowledge the success rate is very high. Please note Whale Sharks are not aggressive unless you happen to be plankton or a tiny fish!
Your tour includes:
Continental breakfast
Shark Swim (equipment included)
Snorkel tour to Isla Che Reef (equipment included)
Refreshments (water, beer, soda)
Light lunch of sandwiches & fresh shrimp cocktail
Transportation is INCLUDED at no extra cost from Cancun to Playa Paraiso.
GUARANTEE: You WILL SEE Whale Sharks or you will receive a 50% refund!
It is also very common to also see sting rays, angel rays and sea turtles.
Your tour does not include:
$12.00 USD Sea Life Conservation / Dock Fee is not included; must be paid at boarding.
Tips
Transportation is NOT included from Riviera Maya. This can be added at extra cost upon booking.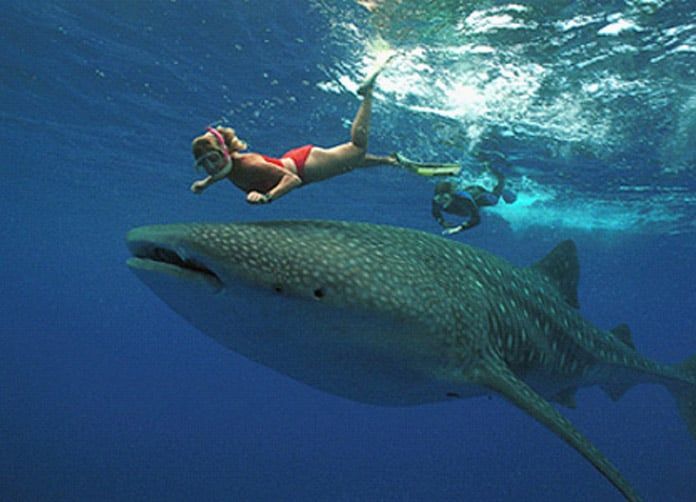 Whale Shark Tours in Cancun Video
Cancun Whale Shark Tours Departure Location