Desire Cruise 2023 Venice Rome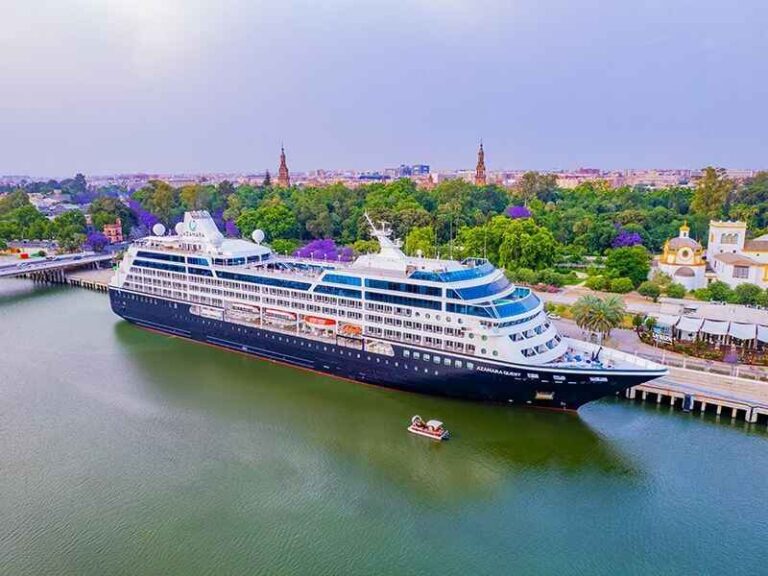 The Desire Cruise 2023 is an eight-day cruise where you'll venture through Venice to Rome, and enjoy plenty of sensual-filled activities and intimate adventures! If you're looking for a boutique cruise with a bit more action, then this is just for you.
Desire's Venice-Rome Cruise departs from Venice, heading then to Croatia where you'll stop by Šibenik's placid waters. On the next day, you'll visit Dubrovnik which is almost 300km away. The cruise will then arrive at Montenegro, Kotor, with the following day spent at sea, where you'll enjoy entertainment from highly-experienced Playmakers and VIP Attendees. Finally, the cruise arrives in Italy starting with Amalfi, a city with one of the most stunning coastlines in the world. Later on, the cruise sails to Sorrento, eventually reaching the journey's end, Rome.
There is so much to see and do! Including fine dining, sensual entertainment, and soothing treatments. Nevertheless, don't forget to visit the cruise's infamous on board hotspots where clothing is totally optional!
Desire Cruise 2023 / Venice-Rome
Ports of Call and Itinerary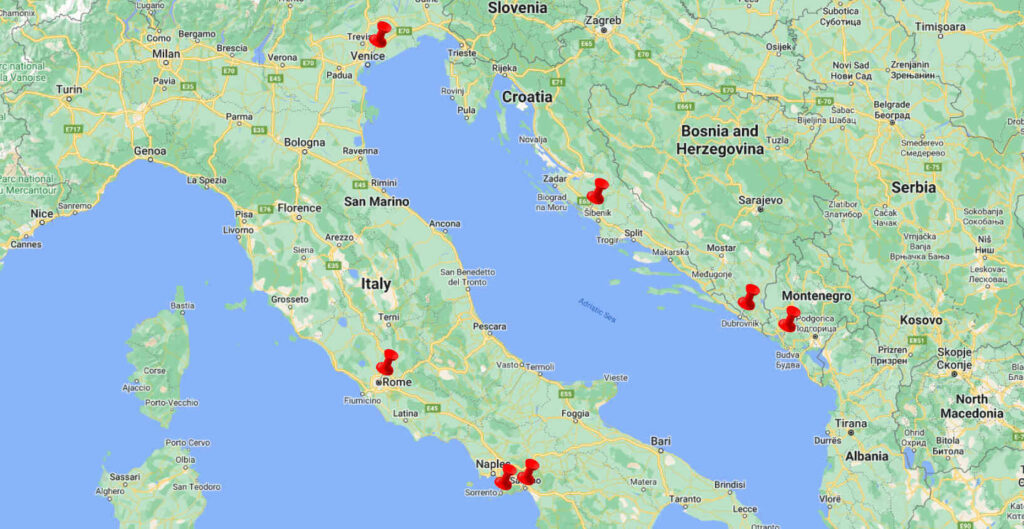 The cruise ship will depart from Venice, ​​Italy on May 18th. Then reaches Šibenik on the 19th. On May 20th, the ship will approach Kotor, Montenegro. After spending a day at sea enjoying Desire's Cruise on board experience, the cruise sets sail to Amalfi, Italy on the 23rd. The ship then heads to Sorrento the next day, before arriving at your final destination, Rome.
A brief summary of what to expect is provided below.
Šibenik
Known for its placid waters and beautiful stone labyrinths. Šibenik has its own personality.
Dubrovnik
Rregarded as the most picturesque city on the Dalmatian coast. You better take lots of pictures!
Kotor
The most charming and preserved town in all of Montenegro. It is said past and present come together beautifully in this small town.
Amalfi
One of Italy's most remarkable destinations. Witness their beautiful turquoise waters close up in person!
Sorrento
Land of Mermaids. Land of Orange and Lemon Groves. Land of Colors. Sorrento has received many charming names along the years. That says a lot about the small city!
Rome
From impressive well-known monuments and archaeological sites to delicious and unique cuisine. Rome takes you back in time.
Azamara Quest Specifications
The Desire Cruise 2023 (Venice-Rome) will be located in The Azamara Quest Ship, which can accommodate 1,404 people.
This ship measures 592 feet in length and 84 feet in breadth and weighs approximately 30,277 tons. Nearly 500 employees work to ensure maximum enjoyment!
Services include:
Provocative daytime & seductive evening entertainment

Many bars, lounges & gathering spots


Premium Beverage Package included

Five inclusive dining options + two specialty restaurants

Spa, salon, and fitness center
Read on to pick up all the
details!
Desire Cruise 2023 / Features
The cruise's famous themed pool parties and erotic nighttime entertainment are just a few of the things included in the list below. 
Embrace your sensuality!
They are aware of how much everyone enjoys pool parties!
The naughty nighttime pool party is sure to be a huge hit. This feature is exclusive to cruises; take advantage of it while you can.
Guest or resident DJs are at each pool party to keep the music going and the cocktails flowing.
On the cruise, premium beverages are included. There's no need to pay extra for your favorite beverage (a cruise ship feature that is uncommon).
These include:
Cocktails / Spirits / Liqueurs / Beer
Bottled still and sparkling water
Wines by the glass
Fresh squeezed juices / Non-alcoholic cocktails
Premium Coffees and Teas
Fountain sodas
To view the full list of beverages: click here
A delicious culinary journey lies ahead! The venues are the following:
Discoveries Restaurant / Main dining room
The Patio / Casual dining & snacks
Windows Café / Buffet, casual dining & snacks
Mosaic Café @ Mosaic Night / Specialty coffees, teas & snacks
Sunset Veranda / Al fresco dining
Room Service  (24-hours)
Suite guests are included two more additional venues. Other stateroom categories will be charged a small entry fee.
Aqualina / Mediterranean
Prime C / Signature steakhouse
They have included theme nights, many of which have never been seen before. We highly recommend that you check each night's dress code. Getting involved makes it so much more enjoyable!
On this cruise, you'll find a playroom, something you won't find at a resort.
A sensual hotspot designed specifically for couples who want to have fun and live their wildest dreams. People who want to try something new and push the boundaries should definitely use this space.
Couples Workshops and Seminars
There will be spicy workshops led by world-renowned sexologists, which are not usually part of the regular Cancun resort program.
All passengers, single or married, are welcome to participate in these workshops.
Who says you can't learn on vacation? Who will graduate with honors will be even more intriguing. Joking aside, no prior experience is required.
The fitness center offers a variety of classes and cutting-edge cardio equipment.
The Sanctum Spa offers a wide range of relaxing massages, beauty fitness, and wellness treatments to indulge you.
The Sanctum Terrace (Private Spa Deck w/ a bubbling saltwater bath & massage)
Facial Glow services
Body sculpting
Massage therapy
Spa rituals
Teeth whitening services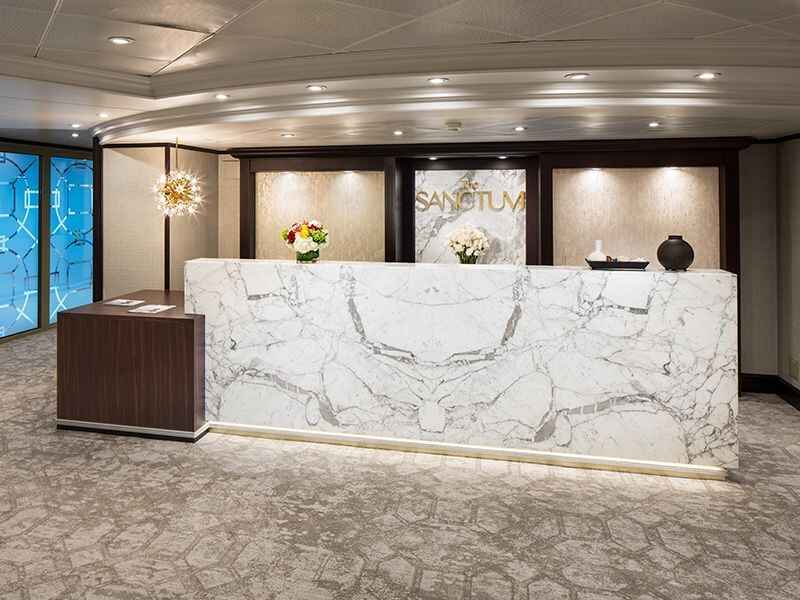 Desire Cruise 2023 / Accommodations
The remaining room categories are listed below, with some already sold out. 
✔ Gratuities included
✔ Premium Beverage Package included per person
✔ Self-service laundry
✔ Concierge services for personal assistance and reservations
✔ 24-hour room service
✔ Luxurious cotton bed linens with duvet
✔ Terry bathrobe and slippers
✔ Fresh-cut flowers
✔ Tote bag
✔ Use of umbrella and binoculars
✔ Shoe-shine service
✔ Turndown treats
✔ Daily news bulletin
✔ Welcome fruit basket at embarkation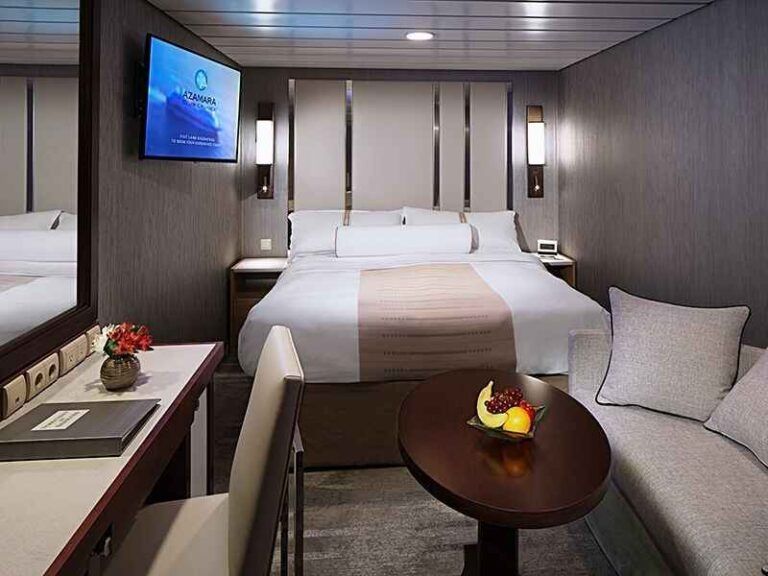 These rooms are 158 sq. ft. (14.7 sq. m.) and sleep up to 2 people in two twin beds that convert to a queen.
40" Flat-screen TV, refrigerator with mini-bar, room safe, phone and hairdryer.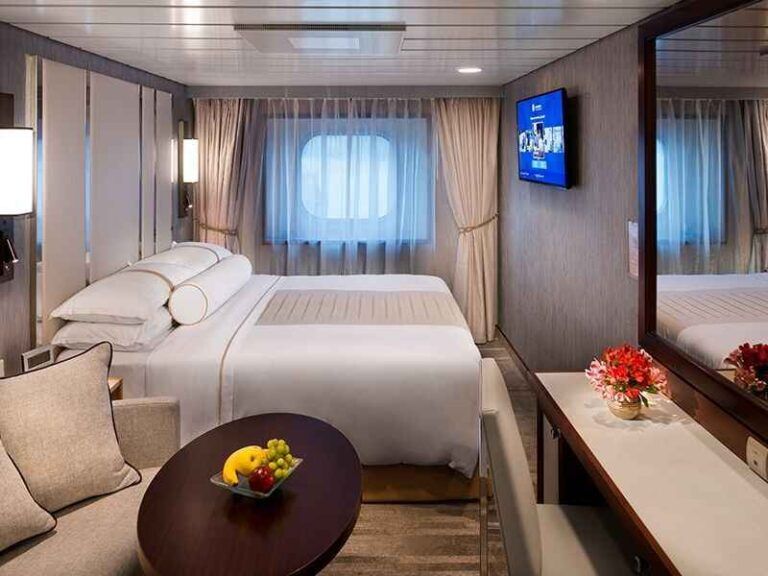 These rooms are 170 sq. ft. (15.8 sq. m.) with the same interior as above but have a large round porthole window.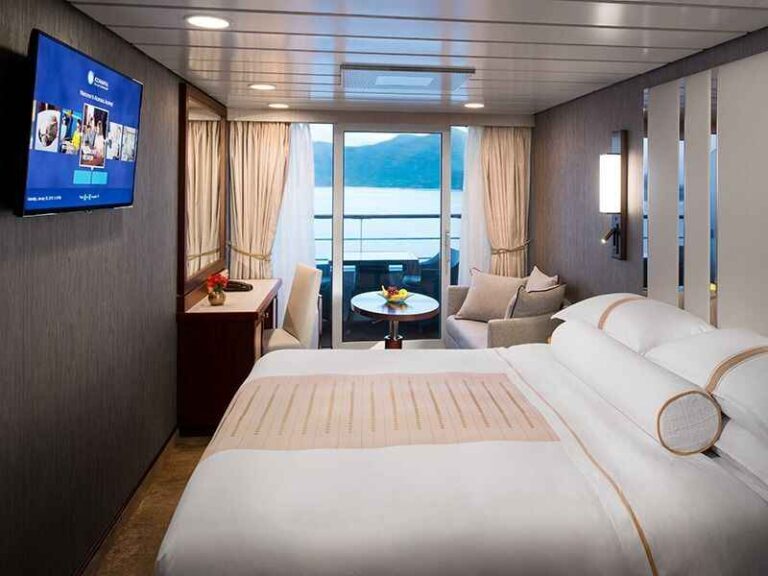 The Club Veranda Staterooms are 175 sq. ft. (16.3 sq. m.) with a balcony size of 40 sq. ft. (3.7 sq. m.)
Club Veranda Plus Stateroom
The Club Veranda Stateroom Plus 175 sq. ft. (16.3 sq. m.) with a balcony a bit more extended and spacious.
The Club Veranda Stateroom Plus features the following:
Complimentary internet
Laundry Service
One night of complimentary specialty dining
Priority embarkation and debarkation
Complimentary in-room spirits
✔ All Stateroom benefits
✔ $300 onboard credit per person (applicable to Club Owners', Club Ocean, and Club Spa suites only)
✔ 240 complimentary internet minutes per guest
✔ Complimentary seating in the specialty restaurants
✔ One free bag of laundry service per suite
✔ Priority embarkation and debarkation
✔ Complimentary in-room spirits
✔ In-suite afternoon tea service
✔ English butler service
✔ Daily fruit basket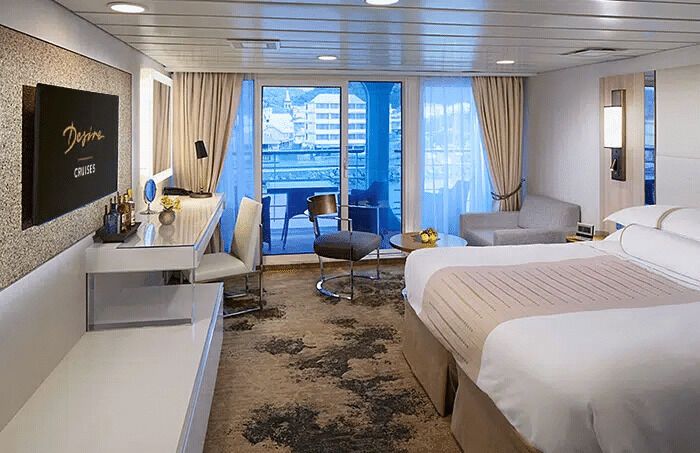 Club Continent Suite is 266 sq. ft. (24.7 sq. m.) with a balcony of 460 sq. ft. (5.6 sq. m.)
The room offers a queen-size bed, comfortable and spacious sitting area with a 55" flat-screen TV, among many other fine amenities.
The Club Continent Suite features the following:
Roomy bathroom with shower or tub
In-room safe
Hairdryer
Floor-to-ceiling sliding glass doors
Minibar
Thermostat-controlled air conditioner
In-room safe
The Club Ocean Suite is: 440 – 501 sq. ft. (40.9 – 46.5 sq. m.) with a balcony of 233 sq. ft. (21.7 sq. m.) The room features a king-size bed and a flat-screen TV.
The Club World Owner's Suite comes with the following additional benefits:
Marble master bath with tub and shower
Dressing room with vanity and ample closet space
Minibar
Thermostat-controlled air conditioner
Writing desk
In-room safe
Hand-held hairdryer
The Club World Owner's Suite is 560 sq. ft. (52 sq. m.) with a balcony of 233 sq. ft. (21.7 sq. m.) The room features a large living room with a separate master bedroom with one king size bed.
The Club World Owner's Suite comes with the following additional benefits:
Marble master bath with tub and shower
Dressing room with vanity and ample closet space
Minibar
Thermostat-controlled air conditioner
Writing desk
In-room safe
Hand-held hairdryer
Please feel free to use our forum and receive input from myself, your fellow voyagers and others in our community.
There you have it, everything you could want and more you will find on board the Desire Cruise 2023 (Venice-Rome). We hope to see you there, it is going to be a life-changing experience for those who love to play & party.
Looking for another Desire Cruise date?
And remember, what happens on the boat, stays on the boat.
Party On!