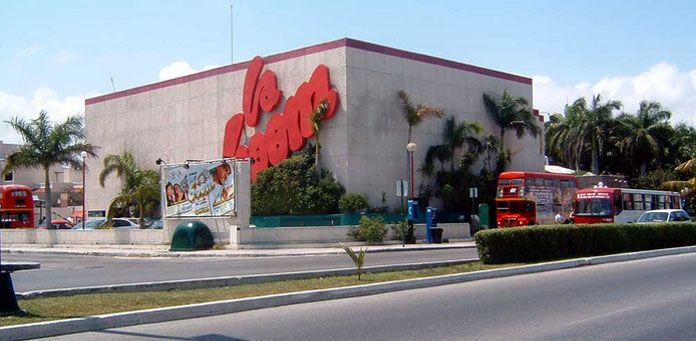 La Boom Cancun was my favourite nightclub club in Cancun. Unfortunately in October 2005, when Hurricane Wilma struck Cancun, La Boom was damaged and never reopened again. It is now looking very sorry for itself and is likely to be demolished to make way for probably more condos once the site is sold.
I decided to include a La Boom page on this site partly as a lasting memorial and partly because there are so many websites out there that have outdated information and suggest it is still open. Judging by the number of searches for La Boom Cancun hopefully more will become aware that it is no more.
One of the first nightclubs in Cancun, and also with the largest capacity, in its heyday up to 9,000 people would pass through its doors on busy nights, with 4,000 inside the venue at any one time.
With its legendary wet t shirt and bikini contests it was like a magnet during the spring break heydays of several years back. Many famous artists played there including Eminem and Dr Dre and European DJ's Judge Jules and Paul Van Dyk.
The video above is all I could find on YouTube and appears to be from the 90s judging by the fashion and the open bar price (as advertised on the red London bus) of $12. Those were the days!
Specializing in techno, house and the latest dance music La Boom Cancun was perhaps the trendiest club in Cancun at one time (although the video editor made a poor choice of Venga Boys for the soundtrack in the video above!)
It's sister venue Tequila Boom next door specialized in hip hop and was also very popular with the younger crowd.
Located at Km 3.5 in the Hotel Zone though, it's popularity waned as more and more clubs opened up in the Party Center and it's distance from there was what I think probably started its demise. Hurricane Wilma was just the icing on the cake.