Cancun Weddings | Getting Married in Cancun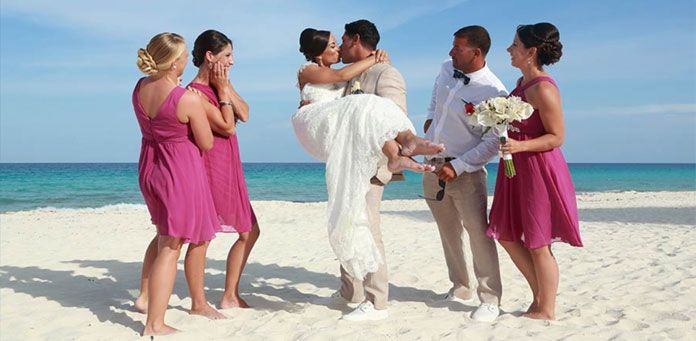 If you're looking forward to a Cancun wedding there's a whole host of perfect venues. Almost every resort will offer weddings as part of their extra services, and if you don't wish to marry in a resort there are plenty of other venues for your wedding in Cancun.
Not only does Cancun offer the ideal wedding venue, it's a great place to honeymoon and maybe hold your bachelor or bachelorette party at one of Cancun's nightclubs.
And don't forget each time your wedding anniversary comes around you have the ideal excuse to enjoy another trip to this Caribbean paradise, or maybe even retake your wedding vows in Cancun.
Religious Wedding in Cancun
If you prefer a religious Cancun wedding there are numerous churches and wedding chapels of many denominations and faiths.
However, this kind of wedding is not officially recognized in Mexico or elsewhere. The wedding must be 'legalized' either in Mexico via a Matrimonio Civil or once you return home.
Tailor made wedding packages to your specification are offered by the majority of hotels in Cancun. Contact your hotel and ask to speak to their wedding coordinator for more details.
Cancun Wedding On The Beach
For a feeling of pure pleasure and total commitment, being married with the sand between your toes against a backdrop of the perfect blue Caribbean Ocean is a feeling you'll never forget.
Cancun Wedding Requirements
Each marriage partner should be sure they have the following documentation:
A valid passport
Original Birth Certificate*
Additional form of photo identity – (normally a drivers license)
Appropriate Visa or Tourist card for the right to be present in Mexico. For tourists these are provided by immigration as you enter the country.
Blood test results, specifically for HIV and STD's. These tests must be taken no greater than 15 days before the actual wedding and are normally arranged by your wedding coordinator. Test results are available within one day.
If either marriage partner has been married before then the previous marriage must have been properly dissolved one year before and certified copies of divorce decree(s) or death certificate as appropriate.
Four witnesses will be required, two for the bride and two for the groom. If the witnesses are not Mexican then they will also need to provide their entry visa/tourist card, passport and another form of photo id. Witnesses can often be provided if you don't already have them yourselves.
"Application for Civil Marriage" form duly completed. This will be provided to you at your initial meeting with your wedding coordinator.
(*) Foreign documents required for the wedding (birth certificate, divorce decree, death certificate, etc.) must have a legal Spanish translation and be certified by an apostille.
An apostille is an internationally recognized notary certification, done in the country of origin of the documents, and usually issued by the State Department of each country.
In the US, contact the Secretary of State in the state where you live.
In Canada contact your nearest Mexican Embassy Office and ask for the Authentication Document which serves the same purpose as the Apostille document.
If you live in the UK please refer to the Home Office.