Traditional Mexican Events in Cancun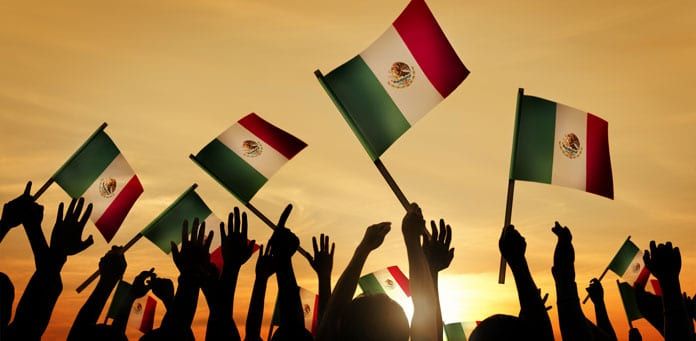 Any excuse for a party!
Mexico possesses a unique history and coupled with deep catholic values and strong family ties this gives rise to some great Mexican fiestas.
Mexicans are never ones to be shy at holding a party or drinking to celebrate something. Below are just a few of the most popular Mexican events in Cancun that are celebrated annually.
Independence Day in Cancun – 15/16 September
This is the biggest single event in the country and commemorates the beginning of Mexico's war of independence with Spain. In 1810 a group of Mexican nationals hatched a plan to overthrow the brutal regime of the Spanish that had occupied their country for the last 300 years.
The plan was that the Mexicans would rise up against the Spanish in a War of Independence that would begin on 2 October. However, their plans were uncovered by the Spanish early in September and a decision had to be made quickly, either abandon their plans or start the revolt early.
Father Hidalgo rang the bell in his small church on the night of 15 September to call the faithful to church, there they listened to his speech which is now known as 'El Grito de Delores', shouting "Viva Mexico" and "Viva la Independencia!" These famous words have been remembered and are said each year at the Independence Day celebrations.
Armed with inferior weapons such as clubs, knives, stone slings, and ancient guns, they fought as they marched to Mexico City. Before the year was over Father Hidalgo was captured and executed but some 10 years later the people of Mexico finally won their Independence. Viva Mexico!
As in every town and city in Mexico Independence Day events in Cancun take place at the main Government office. In Cancun this is on Ave. Tulum, downtown.
Tens of thousands of locals wait to her the bell rung and to hear 'El Grito' re-enacted by the senior government official. Thereafter, their follows a fantastic firework display and much partying, dancing, mariachi music, folk dancing and, of course, drinking.
If you do decide to venture to the Government Building on Independence Day there are a few things you should be aware of:
The surrounding streets will be closed off several hours before, you may have to walk a fair distance to reach the celebrations. El Grito takes place at 11pm, but crowds start to build as early as 7pm.
The area will be very crowded, it is not a place for young children. Given the number of people in a confined space you should be wary of pickpockets. Public transport and taxis will be at a premium after the ceremony, you may have to wait a while before you can get back to your hotel.
If you choose to stay in the Hotel Zone area though, don't worry. El Grito from Mexico City is relayed to all the video screens in all Cancun hotels and nightclubs in the Hotel Zone and even if you are having a quiet night in at your hotel bar you will not be able to miss this one.
Childrens Day in Cancun –  30 April
El Día de los Niños or Children's Day is one of the widely observed events in Cancun and across the rest of Mexico too. As if they don't get enough, it's one more opportunity for parents to buy presents for their kids!
Usually there will be some form of celebration at school and local businesses often get in on the act such as offering free kids meals. In some places there are parades where the kids dress up and march through the streets.
Cinco de Mayo in Cancun – 5 May
Well, sorry to disappoint but Cinco de Mayo is just like any other regular day here in Cancun. However, I thought I'd include an entry about it though as many people expect parties and some kind of event in Cancun, when that's not the case.
In fact, Cinco de Mayo is far more widely celebrated in the US than it is in Mexico.
It does, of course, have Mexican origins though. Cinco de Mayo celebrates the victory of the Mexicans over the French army at The Battle Of Puebla in 1862.
In Mexico though it is only truly commemorated in the state of Puebla where the victory took place.
Day of The Dead in Cancun – 1/2 Nov
The 1st November is to remember young people who died and the 2nd is to remember the older generation.
The commemoration dates back to indigenous culture where the dead are allowed to inhabit the earth once again to enjoy the things they once did. Far from being a scary and macabre event it's a day of celebration.
As far as events in Cancun it is very low key. Oaxaca is the State famous for its large celebrations though.
In Cancun, it's quite a personal thing and tends to consist of families visiting and tidying the graves of family members. You will find if you visit a cemetery that the graves will be decorated with flowers, food and toys for the little ones.
Families have a special dinner with candles etc. and, of course, a few drinks to commemorate a lost loved one.
Day of the dead food often consists of meat dishes in spicy sauces, a special egg-batter bread, cookies, chocolate, and sugary confections in a variety of animal or skull shapes.
Christmas in Cancun – 24 Dec
Yes, that's correct! In Mexico, Christmas Day is celebrated on the 24th of December rather than the 25th. Traditionally, Cancunenses will prepare their family meal for late in the evening on the 24th. Although often celebrations carry on well into the 25th and sometimes the 26th too!
Three Kings Day in Cancun – Jan 6
According to St Matthew, the 6th Jan is when the three Kings arrived in Bethlehem and gave their presents to Jesus. Traditionally, this is when the Mexican Kids receive their Christmas presents.
I'm not sure how widely observed this is in the more modern society that is today's Cancun.
We for one tend to stick with Christmas for our kids presents giving, but hold one or two back for Three Kings Day.
During the Three Kings Day event in Cancun it is customary to eat a special kind of sweet fruity bread called Rosca de Reyes.
The bread contains small figurines of Jesus and the person who discovers the figure in their portion is expected to hold a party on February 2nd!