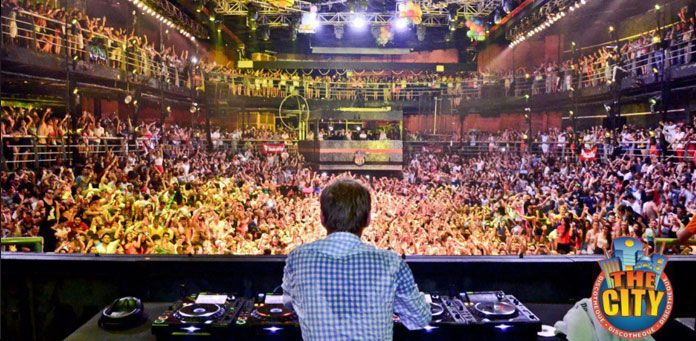 The City Cancun Nightclub opened in the party center on January 30, 2004 and  became the latest 'superclub' in Cancun.
The City was created and developed by a group of businessmen looking to set new standards for the discotheques of Cancun. The project began in March of 2003 with a goal of offering a new alternative of entertainment for all ranges of people.
The City is currently the largest nightclub in Cancun and has capacity for almost 5,000 people in 2,500m2 of floor space. With 9 bars over three floors The City boasts a million watt sound system and 200 square metres of video screens.
They also have a spectacular mobile dance stage, which goes down from the 3rd level to the center of the club. The club has one of the best laser and lighting systems in Cancun. CO2, bubble, fog, balloon and serpentine machines mean that there is always something going on.
The 3rd floor is where the VIP area is located; with comfortable sofas and carpet just for those people that are keen on luxury. With a stage designed for live shows The City Cancun has already attracted live performances from big names such as Black Eyed Peas, 50 Cent, Sasha, Tiësto, Fergie, Ludacris, Paul Van Dyk, and more to perform at their venue.
The large lighting structure in the center of the clubs roof is spider shaped and there are four mobile light triangles located in the 4 corners of the club. The club also has a huge cinema screen and the biggest disco-ball in the world! with a variety of Cirque de Soleil style shows and performances which happen every night. The club is also safety conscious too with 23 exits.
The City also has a private beach club which fronts the bright blue Caribbean ocean. The club consists of two pools, many padded sun loungers and cabanas, all overlooking the wide expanse of restored beach. A varied menu is available, but it has to be said with a $10 entry fee alone it's not a cheap day out.