If you are visiting Cancun between March and August then you should know about sea lice. More importantly you should know how to avoid them, and what to do if they get you.
Below is information on the sea lice season in Mexico when they are likely to be at their most abundant. Plus advice on how to prevent sea lice attacks in the first place.
Read our explanation of Safe Sea Lotion. Safe Sea is widely regarded as the best preventative sea lice measure around. Safe Sea lotion is not generally available in Cancun, so it is worth taking a bottle or two if you intend to visit Cancun during sea lice season.
It will help you avoid this itchy pest that could spoil your vacation. Scroll down for details.
If you are unfortunate enough to have a painful meeting with sea lice then this article also explains the best sea lice treatment methods. We also have a few tidbits of advice on where to buy any necessary creams and medication locally in Cancun.
We aim to provide all the information necessary to make sure your trip to Cancun goes without an itch. 🙂
Are There Sea Lice in Cancun?
Yes, at certain times of year there are. Sea lice are known locally as Agua Mala (bad water) or pica pica (itchy, itchy) and throughout the world as Seabather's Eruption.
They can be responsible for a painful itchy rash when swimming in the Caribbean Sea off the beaches of Cancun.
What Are Sea Lice?
Sea lice are in fact, not lice at all. Don't confuse them with the parasitic louse that affects fish. Also they are not sand fleas, sand lice etc that live in wet sand.
They are in fact the microscopic larvae of the thimble jellyfish (Linuche unguiculata) around the size of speck of pepper. They float freely through the warm seas during the late spring and early summer months.
They are translucent which means that combined with their size of less than a millimeter they are almost impossible to see with the naked eye.
Here's a picture taken in Cancun that I took myself of the adult thimble jellyfish.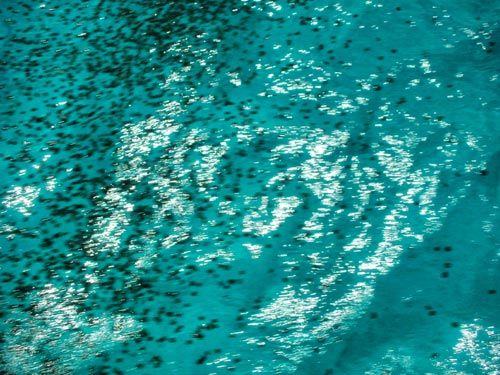 The adults appear as long thin ribbons stretching for hundreds of yards.
You can be sure that if there are adults around there will be babies too!
Areas of bare skin normally escape unscathed.
However, if they get through your bathing suit the fabric acts as a net, pisses them off and their venom can be triggered.
A Sea Lice attack will cause large red welts and blisters, often in the most sensitive of places!
Sea Lice Attack Prevention: SafeSea
The sensible traveler should always take along a few medications when traveling abroad. If you're traveling to Cancun between March and August then you should consider buying Safe Sea. After all, you'll be taking sunscreen with you and why not take one that not only protects you from the sun, but can also defend against sea lice?