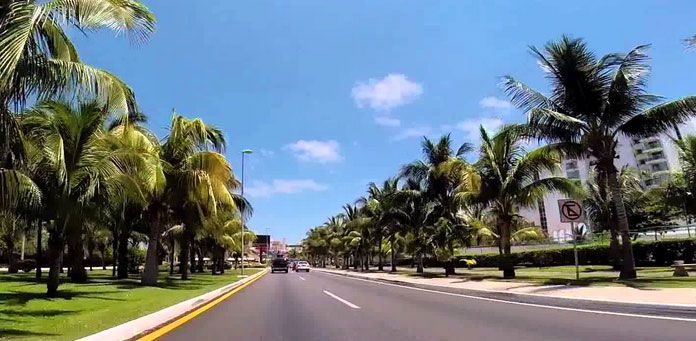 The Cancun Hotel Zone is one long road called Avenida Kukulcan with just a few side streets, most of which don't lead anywhere interesting.
This means getting around Cancun is easy. It also means it's difficult to get lost! As long as you remember the Km designation of your hotel you'll have no problems. Taxis and buses in Cancun are cheap, safe and run 24 hours, 7 days a week.
Cancun's Kukulcan Avenue is 25 km long. Each kilometer and half kilometer is marked at the side of the road by small tombstone shaped markers.
Kilometers are measured from the downtown end, so Km 0 is where Avenida Kukulcan meets downtown. Km 25 is where Kukulcan meets the airport turn off and highway 307. Highway 307 leads south to Playa del Carmen, Tulum and many of the parks such as Xcaret, Xel Ha and Xplor.
The Cancun Hotel Zone is often referred to as a '7' this is because a plan view of the hotel zone looks very much like a figure 7. Places are often referred to as being "on top of the 7" i.e. the North facing side, or on the "side of the 7" i.e. the east facing side (see map below).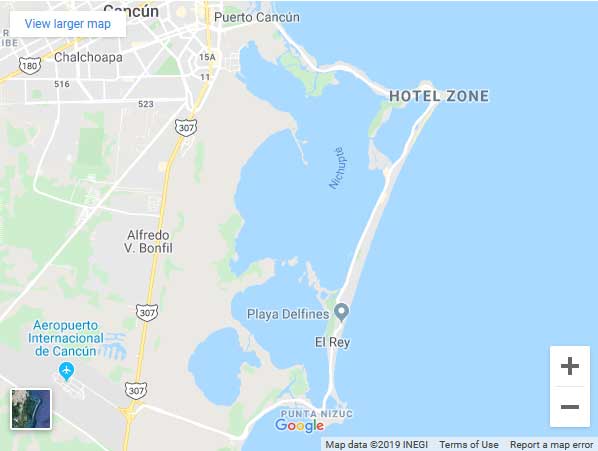 Km 0 to Km 7.5 or so is the short end (or top) of the '7', this stretch of the hotel zone has hotels on either side, those on the South face the lagoon with those on the North facing the bay area and offering views of Isla Mujeres.
The Cancun bay area is the area sheltered from the open ocean by Isla Mujeres. As a consequence the Ocean here is usually calm, safe and very suitable for swimming. The beaches, however, tend not to be as nice as those on the long edge of the '7'. Public beaches include Playa Las Perlas and Playa Langosta.
Punta Cancun is located at Km 7.5, this is the corner of the '7' and is where most of the big Cancun nightclubs such as Coco Bongo, The City and Dady O are located. This is the area where people flock to at night. This area is also home to Plaza Caracol and Plaza Forum, both shopping malls with plenty of restaurants.
From Km 8 to Km 20 along the eastern side is where the Ocean side hotels are located, with mainly restaurants and commercial properties on the west hand side facing the lagoon. Public beaches here include Playa Delfines, Playa Ballenas and Playa Marlin. Plaza Kukulcan and La Isla are the main shopping areas here and there is also a smaller mall at Plaza Flamingo.
The beaches and ocean along this Eastern stretch of coastline are those you will typically associate with Cancun and see in all the brochures and on TV. Vivid turquoise blue seas and pure white sand. Swimming in this area can be dangerous with large waves and strong currents. Always observe the safety flags on the beach.
Km 20 to 25 is largely undeveloped at the present time and provides access to the airport and the highway which leads to resorts further south to destinations such as Puerto Morelos, Playa del Carmen, Akumal, Puerto Aventuras and Tulum
Getting Around Cancun by Bus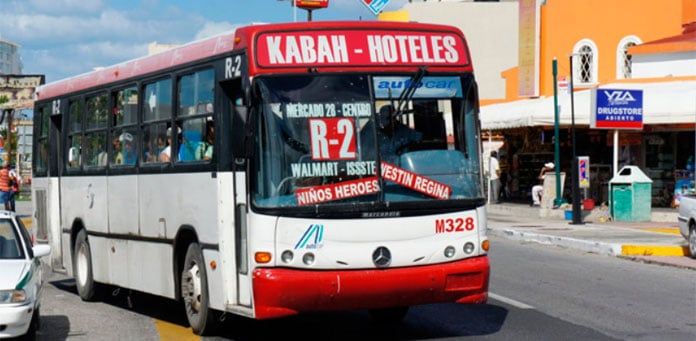 By far the easiest and cheapest method of getting around Cancun is by bus.
In the Hotel Zone the fare is 12 Pesos, it doesn't matter if you want to go one stop or all the way. Try to have Pesos rather than Dollars, you might not get the change you should have and it makes it easier for the driver.
The steps on Mexican buses are high and the driver wont wait for you to sit down before he pulls away, cling on tight!
The buses run 24 hrs a day and every few minutes (a little less late at night) I think buses are a much better and cheaper option than taxis.
A word of warning – it is very easy to become disorientated and miss your stop, try to remember a landmark close to your hotel, or when you pay your fare tell the driver where to stop. If you think you have gone past where you want to get off just shout alto por favor!
Mexican bus drivers are notorious for scaring their passengers, don't be surprised if he swerves towards a cyclist or makes sure that the trees brush the windows, he's only having a bit of fun and it will make you remember your trip! Sometimes you may get some live entertainment, a group of kids may get on and give you a rendition of a few Mexican songs or maybe a solo guitarist, its nice to give them a few pesos in appreciation.
The R-1 and R-2 routes are the main hotel zone routes and they run 24 hrs a day both ways. If your hotel is on the Caribbean Sea side of the street you catch the bus on the same side of the street if going downtown or cross the street and catch it if you are going towards the airport. Ask reception or the security guard which way to go when leaving the hotel to make sure you go in the right direction.
In Downtown Cancun there is a large bus station known as the Ado. This is where buses depart for destinations further out of Cancun. In fact buses leave from here to destinations all over Mexico and even to other countries such as Belize and Guatemala. You can book tickets in advance online through their website here although the site is ion Spanish and doesn't appear to have an English translation at the time of writing
Getting Around Cancun by Taxi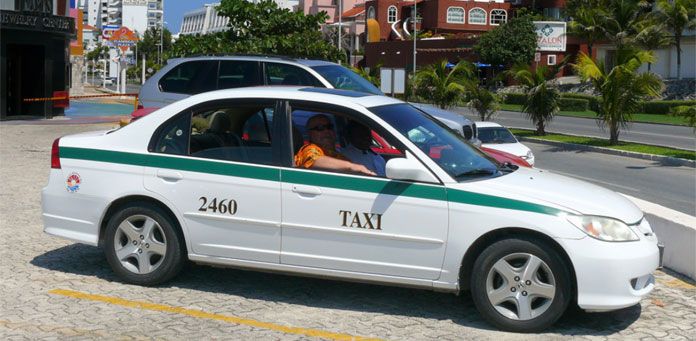 You shouldn't have trouble finding a taxi in Cancun, about every third vehicle seems to be a taxi.
To flag a taxi you don't need to do more than just look like you want one! A little wave or standing aimlessly at the side of the road is usually enough for a driver to stop.
The key to getting around Cancun by taxi is to always negotiate your price before you start your trip. If you can't agree a price then find another taxi or take the bus.
Prices will vary, obviously on how far you want to travel, but also prices will be more expensive late at night/early morning when there are a lot of customers about, you may also find that the prices are hiked if you are drunk, but then again you probably won't remember!
Safety is not high on the agenda of taxi drivers and you will often find seat belts not fitted or defective, especially in the rear seats. Driving can be described as lively at best, reckless at worst.
Maximum occupancy is 4 passengers and this is something that is fairly strictly enforced, but not always. Try to avoid the taxis that park directly outside the hotels, clubs and restaurants. These are known a sitios or taxi ranks, and will charge a higher price. Just walk a hundred yards down the street and put your arm in the air, you'll normally have a taxi pull up within seconds.
The driver will normally set the price so it includes a little tip for him so it's not really necessary to tip extra unless he performs an extra service such as helping with bags, multiple drop offs etc, but an extra 5 or 10 pesos is a nice thing to do.
The price for locals anywhere in downtown to anywhere else downtown is 30 pesos flat rate. So if you have to travel somewhere downtown I would suggest catching the bus to Ave. Tulum and then flagging a local Cancun cab for the cheapest overall price (and the reverse for your return).
Don't be surprised or alarmed if the driver also picks up someone else to share the ride though, that's quite normal downtown.
Getting Around Cancun by Rental Car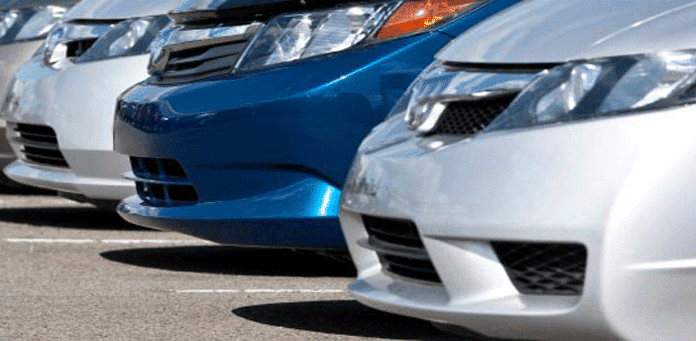 There really is no need to rent a car for getting around Cancun if all you want to do is stay within the confines of the hotel zone. Parking is difficult to find and any spaces that do exist are usually taken.
The Traffic Police are very eager and cash hungry, particularly preying on tourists driving rental cars. Rental cars are easy to spot since they carry different plates to private or commercial vehicles.
I'm sad to say that car rental companies in Cancun are notorious for rip-offs and scams too. Many rental companies will lure you in with ridiculously cheap car hire prices such as $5 a day. What they don't tell you is that they will want an additional $100 per day for compulsory insurance.
Another favorite scam is to not provide a spare wheel, which most people don't check for. Then when you return the car they'll ask where it is, and charge you for it!
My advice if you are thinking about renting a car in Cancun, is don't!