Cancun Weather in January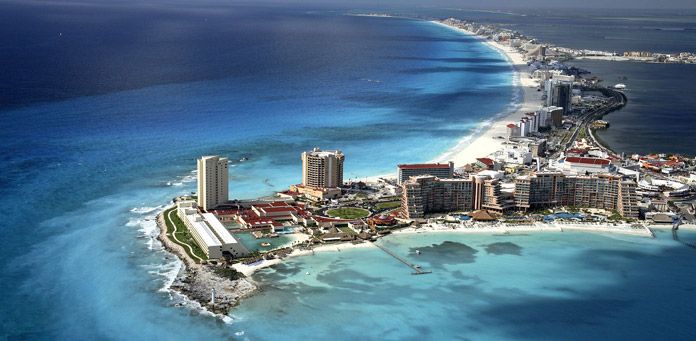 While Canada and much of the US experience ice and snow and sub-zero temperatures, Cancun enjoys an average high temperature of 83 degrees in January, with average low temperatures typically in the mid 60s.
Average Stats For January Weather in Cancun
| | | | | |
| --- | --- | --- | --- | --- |
| High F | Low F | Days > 90 F | Days > 80 F | Rain inches |
| 83 | 67 | 0 | 20 | 3.5 |
| | | | |
| --- | --- | --- | --- |
| Rain Days | Humidity % am | Humidity % pm | Wind Speed mph |
| 5 | 86 | 75 | 9 |
Temperature in Cancun During January
This means it's still T shirt and shorts weather even in the depths of the Cancun 'winter'. While it is unlikely that any single day in January will exceed 90F the average month produces no less than 20 days when temperatures exceed 80F.
The occasional chilly day can sometimes occur though so when traveling at this time of year it's always best to bring a sweater or light jacket just in case.
Northerly winds can often push cooler weather down from North America – these are known locally as 'North Fronts'. They can persist for a couple of days and may bring the temperature down to mid 50s on occasion.
Rain and Humidity in Cancun During January
Hurricane season has long since passed and there is zero chance of a hurricane in January. Sea temperatures are about as low as they ever get although you will find that the ocean is likely to be quite a bit warmer than the hotel pool!
Regarding rainfall in Cancun in January a typical month has 5 rainy days, dumping on average 3.5 inches (ca. 9 cm) of rain. It's most unlikely that those 5 days of rain will fall on consecutive days so as long as you're in Cancun for more than a few days you are virtually guaranteed some good sunshine.
January Cancun weather is the 4th driest month of the year, so rain shouldn't be anything to worry about. Humidity follows the usual year round level of 85% maximum or hereabouts with 75% being the lower level, average wind speeds are around 9mph (ca. 14 km/h).
January in Cancun
When the New Year arrives Cancun becomes very busy. It's probably one of the busiest months of the year as folks fly south to seek some respite from the icy temperatures and long nights back home.
January is particularly popular with Canadians, and it is they who form the bulk of tourists visiting Cancun in January. Be prepared though Cancun hotel prices are at their peak in January and probably won't subside until mid March.
January is the perfect time to explore the Yucatan, the weather is pleasant and not too hot and all land based attractions are open every day of the week.
Ocean based activities may suffer from the occasional cancellation due to weather conditions, but that is not unusual during the rest of the year too.
Cancun Weather from Month to Month
January – February – March – April – May – June – July – August – September – October – November – December