Cancun Weather in September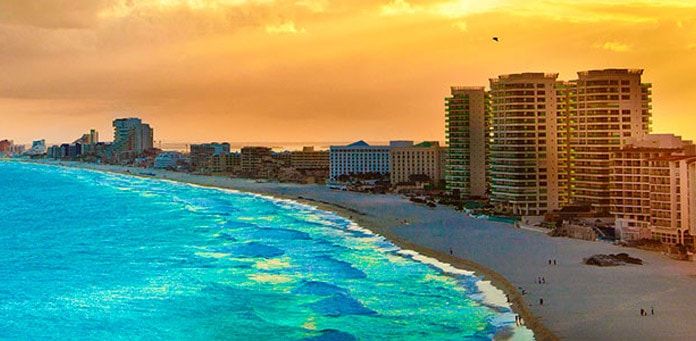 Cancun weather in September is that time of year when the hottest summer months are behind us and temperatures start to cool a little – just a little!
Average Stats for Cancun Weather in September
| | | | | |
| --- | --- | --- | --- | --- |
| High F | Low F | Days > 90 F | Days > 80 F | Rain inches |
| 89 | 75 | 17 | 30 | 9 |
| | | | |
| --- | --- | --- | --- |
| Rain Days | Humidity % am | Humidity % pm | Wind Speed mph |
| 7 | 85 | 75 | 9 |
Temperature in Cancun During September
It is still a very hot and humid climate with maximum temperatures in the low nineties and minimums at the mid 70 range.
Sea temperatures in the waters surrounding Cancun will also be at their peak at this time of year and it is often the case that the ocean will actually be warmer than your hotel pool.
In an average September 17 of the 30 days have temperatures going beyond 90F and every day of the month the temperature will exceed 80F. Once again these temperatures will feel even hotter than they actually are due to the high humidity which works similar to wind chill in reverse in exaggerating the actual temperature.
Rain and Humidity in Cancun During September
September is the wettest month of the year with around 9 inches (ca. 23 cm) of rain in a typical month.
This 9 inches (ca. 23 cm) of rain typically falls over a total of 7 days, meaning that 23 days of the month are typically rain free.
So you can figure out from those statistics that it doesn't rain that often but, when it does it rains heavily. Those 7 rainy days are likely to be spread fairly evenly throughout the month rather than being one whole consecutive week of rain. You'll be pleased to know the chances that your entire vacation will be rained out are virtually nil.
Humidity levels in Cancun in September range from 75-85%. While the maximum humidity level is only slightly lower than in August the minimum level is a good 5 degrees higher than what is traditionally the warmest month of the year.
Hurricanes in Cancun!
September, along with October, has the highest chance of hurricane formation affecting the area. The oceans to the south and east where hurricanes start their life now have their highest temperatures of the year and create ideal conditions for hurricanes to form.
One should always remember that hurricanes that directly effect the area are still rare occurrences and by no means happen every year. It is however, advisable to take out extra travel insurance when traveling to the Cancun region at this time of year.
September in Cancun
Following the trend from late August occupancy levels tend to continue to drift off since kids are back at school and the Mexican tourist season has largely ended. The month of September with its lower occupancy rates is often joked about by locals as being 'Septhambre' a pun on the Spanish word hambre meaning hungry.
Cancun is never 'dead' though and facilities such as clubs and bars seldom close because of low season. The lower occupancy rates, however, provide some great opportunities for last minute Cancun hotel deals.
September hotel rates are generally quite low and a fair bit lower than the proceeding few months.
September marks the end of whale shark tours in Cancun for the year, so if you want to swim alongside these majestic giants of the sea then September is your last chance until next May when the season starts once again.
Cancun Weather from Month to Month
January – February – March – April – May – June – July – August – September – October – November – December